The council of expert
9 February 2021
How to clean the fabric sofa: fast and foolproof methods
Stains, dust, food residues threaten the beauty of your sofa, find out now how to clean the fabric sofa quickly and effectively.
What's more beautiful at the end of a hectic, endless and tiring day,
than throwing yourself into the soft "arms" of our beloved sofa?
We have no doubts, the company of our sofa is one of the most desired things of the day.
Let's face it honestly, how many times a day do we think about this beloved moment?
The sofa is one of our best friends of the evening and together with a cover, our favorite TV series …
everything becomes incredibly perfect.
Taking care of this welcoming friend therefore becomes essential and today we want to illustrate some little tricks
to find out how to clean the fabric sofa.
How to clean the fabric sofa: grandma's methods
There is no doubt that the sofa is the symbol of hospitality and home comfort,
it is also true that this must be clean and perfumed to be like that.
When was the last time you cleaned your sofa?
Let us remember that the sofa, especially the fabric one, can become a receptacle for germs.
Stains, dust, food and hair residues can sneak into the tissues and become unwelcome guests,
unpleasant companions of our relaxing evenings on the sofa.
To avoid this unpleasant company, there is no escape, we just have to clean the sofa with the right methods.
Let's find them out now, starting with those suggested by grandmother.
How to clean the sofa then?
As long as the sofa is removable the game is quickly done, the problem arises when this is not like that.
Cleaning a fabric sofa is certainly more complicated but let's not despair, it is certainly not impossible.
To keep it nice and clean, there are small and simple precautions.
The first thing to do, before cleaning, is to vacuum every part.
We pay attention and insist on hidden corners, around the armrests and on the perimeter under the cushions.
In fact, before starting to wash, it is always necessary to eliminate all dust and any residues.
Once the dust is removed, the most effective remedy to clean the fabric sofa, suggested by the grandmothers,
is definitely Marseille soap.
We prepare a solution with hot water and Marseille soap,
with the help of a cloth or sponge, we rub the entire sofa with the liquid.
At the end, as a last step, we proceed to rinse with clean water.
The second ancient cleaning solution features bicarbonate.
We prepare a liter of hot water with a tablespoon of bicarbonate and half a glass of apple cider vinegar.
We proceed to apply it on the sofa with a cotton cloth or a sponge.
This do-it-yourself detergent, on the one hand, thanks to the bicarbonate, will act as a stain remover and on the other,
thanks to the properties of apple cider vinegar, it will sanitize the entire surface.
Another very effective remedy for cleaning and sanitizing the sofa is steam.
The steam eliminates bacteria, mites, mold and neutralizes all forms of dirt, even the deepest one, such as stains and grease. Also in this case, let us remember to vacuum the sofa before using the steam jet.
We use the steam on a small portion at a time, so that the water does not have time to penetrate the upholstery of the sofa.
In fact, it is important to be very careful not to over-wet the sofa, to prevent water from penetrating under the fabric.
How to clean fabric sofa: remove stains very quickly
In addition to dirt and residues of any kind, sooner or later on our beautiful sofa-there is no doubt-
annoying and horrible stains will appear.
Unfortunately, you know, whatever coating you have chosen,
any color, there is no escape, the sofa will sooner or later get stained and
it will need an effective remedy to be perfectly cleansed.
Sometimes it will seem impossible and you will feel doomed to see a new stain appear
but don't worry, there is a remedy called PULI TEX.
A detergent for cleaning and removing dirt and stains on upholstery fabrics such as sofas, rugs, carpets, car upholstery.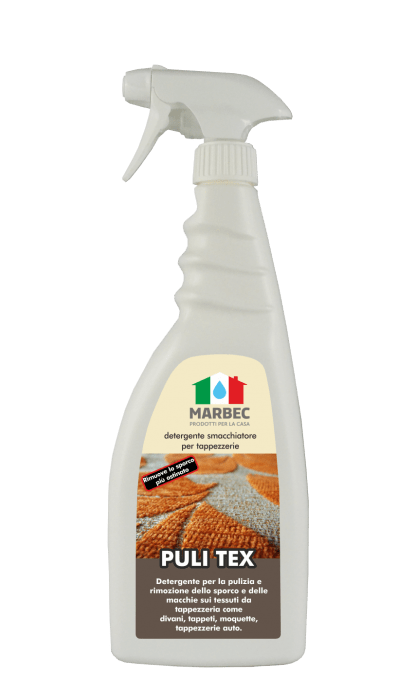 Easy to use, PULI TEX is sprayed directly on the stain and quickly and deeply removes all dirt,
even the most stubborn, from upholstery fabrics.
Acting in a few minutes, it does not leave halos and stains any type of stain out,
in short, a daydream, seeing is believing!