The council of expert
31 August 2020
How to clean the external travertine marble?
Have you noticed stains on your travertine terrace? Do not worry, find out how to clean external travertine marble quickly and without too much effort.
August, holiday time, time for dinners in the garden, barbecues on the terraces, but alas, at the end of the season,
these pleasant hours spent in the company of friends and relatives can "give" to our surfaces unpleasant and
unexpected surprises: horrible and indelible stains.
So today, let's find out how to clean external travertine marble quickly and without too much effort.
Why is it important to clean external travertine?
Travertine is one of the most used stones to decorate the house, its resistance makes it suitable for floors and
both internal and external coatings. Elegant and refined, it gives the rooms a unique atmosphere.
Like all precious natural stones, travertine also requires special care.
In fact, lack of attention and poor maintenance determine its "ruin".
The cleaning of the travertine will therefore be carried out periodically, always taking care to use neutral products,
delicate, non-aggressive, able to respect the porous structure, absorbent and not very resistant to acids.
In this small guide we will see together how to clean the external travertine marble without the risk of damaging the surface.

How to clean the external travertine marble from stains?
Travertine, due to its porous structure, stains easily in contact with acidic or oily substances.
The first golden rule for cleaning external travertine is always the same: act quickly.
In fact, if any oily or greasy liquid falls on the surface inadvertently, intervening immediately, dabbing the substance with plenty of absorbent paper, can help us avoid irreparable damage as much as possible.
Dab is not enough, in a second moment therefore, we will have to run for cover and intervene using professional products.
These, with their specific action, will help us to permanently eliminate any type of stain.
Let's find out how to clean travertine and eliminate dirt and specific stains.
The most common stains, after dinners and summer barbecues, are undoubtedly oily ones, caused by vegetable and animal fats. Fortunately, however, to remove them carefully, an excellent product comes to our rescue: TIXO.
A strong thickened alkaline-solvent stain remover, specific for the removal of oil and grease stains of natural origin on all stone materials.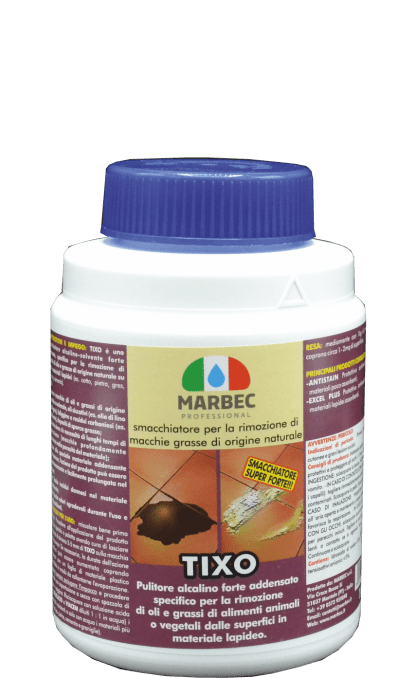 In the ranking of the most frequent summer spots that appear on external surfaces, in second place,
we find the "nice" stains left by the wax.
SOLVOSILL helps us to eliminate them, a strong thickened solvent stain remover, specific for the removal of stains of synthetic origin on all stone materials, also ideal to remove lubricating oil stains.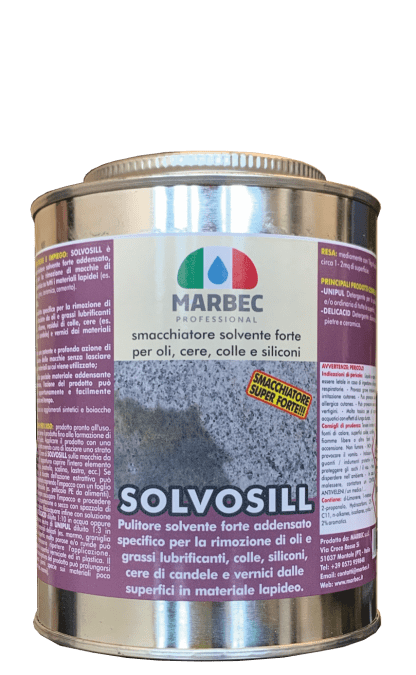 Friends and relatives visits can undoubtedly cause intense trampling.
So, to eliminate it, we recommend cleaning the travertine with MICRONET, a concentrated detergent for the deep cleaning of surfaces in porcelain tiles, ceramic, klinker, polished stones, cementitious or synthetic agglomerates.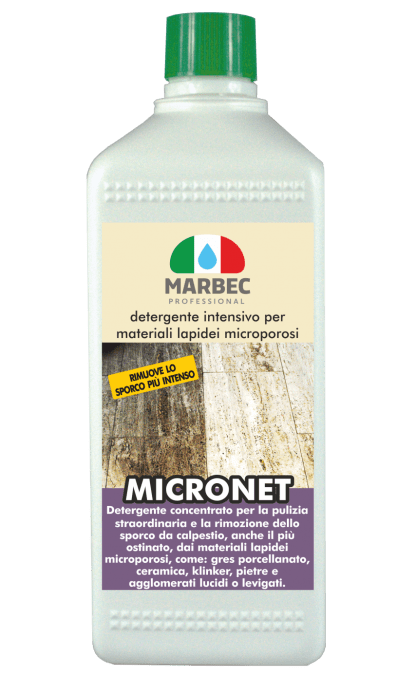 As for periodic maintenance, do not forget to always carefully observe the surface and
remove any stains caused by external factors and agents such as algae, iron, etc.
To eliminate stains and dirt caused by algae and lichens we use ALGANET: specific stain remover to remove even consistent deposits of biological origin from external stone materials.
To remove ferrous sulphate, we can wash our travertine with TOGLIRUGGINE LIQUIDO: a specific cleaner for the rapid removal of stains due to contamination of rust and metal oxides from stone materials in general.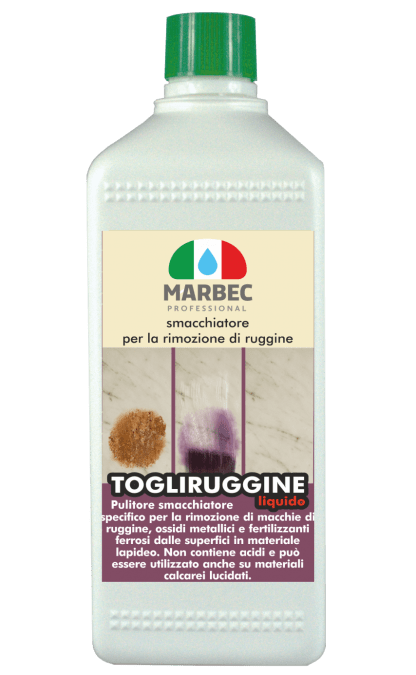 For copper stains, which can form due to the dripping of the eaves, we can use DESOLF4,
a concentrated powder extractor for the removal of the patinas and calcium sulphate encrustations (gypsum) on stone materials.