How to clean the stainless steel of our kitchens
Discover our tips to always have the perfect kitchen without too much effort!
The stainless steel, practical and very elegant material, is one of the most used components in kitchens, but its cleaning requires a special attention. That's why, today we want to illustrate you some useful tips to make it shine and carry out a thorough cleaning of the stainless steel of the kitchen and its components.

Stainless steel and kitchen
The kitchen is the real "hearth of the house". It's undoubtedly the most experienced and used room by all the members of a family, being one of the most shared areas. So, this room is easily worn and therefore it needs special attention. A good kitchen, to maintain its original beauty and usefulness, must respect aesthetic requirements but also and above all functional. One of the materials that combines these qualities is certainly stainless steel. Stainless steel is notoriously a resistant material that, with its particular characteristics, gives to the kitchen a touch of elegance and brightness.
The stainless steel, thanks to its quality, is used both in professional kitchens and housewives. We can summarize the qualities in terms of:
Hygiene: thanks to its non-porous composition, stainless steel is a very hygienic material, since it significantly limits the appearance and survival of harmful bacteria and micro-organisms on its surface.
Resistance: steel, as widely recognized, is a material not subject to corrosion, so in the kitchen it is ideal because its surface is very resistant to substances and acidic foods stains, such as coffee, lemon juice , tomato juice, which otherwise easily color other types of materials.
Cleaning: another quality that should not be underestimated is the cleaning of stainless steel, even if you clean quickly and easily, certainly requires constant maintenance and some more precautions than other types of material. However with the right products and following small and useful measures, the cleaning of stainless steel will become a breeze.
Let's find out together:
When using stainless steel components such as sinks, desks, faucets, always rinse well with water and dry the entire surface with a clean and delicate cloth, this will help us to prevent those annoying limescale stains. To combat and protect our stainless steel from limestone, for daily cleaning we can use SHOWER BRILL: a quick and easy to use spray detergent, which creating on the material an invisible protective film that prevents the re-deposition of limescale and soap residues, will help us to keep the steel bright.

To clean stubborn dirt from surfaces and especially from kitchen stoves, never use steel wool or other abrasive materials. Stainless steel can scratch and lose its beauty perpetually. So, to wash or dry, always use soft sponges, or cotton or microfiber cloths. A product that can help us to degrease easily, without needing to rub the surfaces energetically, is PULI ECO: a detergent that is sprayed directly on the steel and that cleans, degreases in depth. A concentrated detergent that eliminates the most stubborn dirt and sanitizes all washable surfaces. It does not contain solvents and allergens and is completely biodegradable.

During the usual culinary actions, remember to never cut food or drag objects on stainless steel surfaces, always use alternative planes or cutting boards.
On the surface, avoid placing hot pots, which can cause deformation and yellowing.
Even following special care, it may happen that over time the steel surface becomes opaque, in this case to bring it back to its original splendor, we recommend using: CREAM INOX: a concentrated polishing cream for stainless steel and aluminum. An ideal treatment for cleaning, degreasing and polishing stainless steel surfaces matted by use. It contains neither acids nor alkalis. It does not leave halos after use and does not exhale harmful fumes. INSTRUCTIONS FOR USE: Shake before use. Pour a small amount of CREAM INOX onto a dampened sponge: rub the surface to be polished until a dark patina is formed. Rinse immediately with water.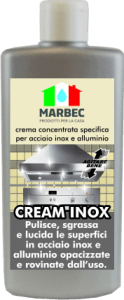 Do you have any questions about cleaning your surfaces?   Contact Us! Our experts are at your disposal 🙂