Guides all purchase, The council of expert
2 September 2020
How to remove stubborn limescale from the shower glass?
Do you want to remove stubborn limescale from the shower glass? Try to use specific products that clean and protect the surfaces at the same time and you'll keep them beautiful over time without effort.
Shower glass is the bathroom component most difficult to clean.
When we talk about cleaning, the shower in general and the shower glass in particular are a real nightmare.
Cleaning the shower tray, make the taps shine, remove stubborn limescale from the shower glass,
they are truly unpleasant and demanding actions.
Very often when we find ourselves setting up our bathrooms, for a matter of comfort, we choose the shower instead of the tub. About cleaning this choice is a wrong choice!
In fact, the shower allows us to cleanse ourselves faster and more easily, but to keep it sanitized and clean every day,
alas, we certainly cannot speak of practicality.
Compared to cleaning the tub, the shower requires more attention,
especially if we focus on the most complicated part to clean: the shower box. In fact, cleaning the shower windows effortlessly is not simple at all!
Whether it's in plastic or glass, every time we take a shower,
stains and halos of any kind appear.
Soap residues, water splashes, limescale if not eliminated immediately, they still "follow us".
But let's not despair, even if it is very tiring, having a shower that is always shining is not impossible.
By making use of suitable and quality professional products, we will be able to make it shine every day in a few steps. Let's find out immediately how to remove stubborn limescale from the shower glass.
Why is removing stubborn limescale from the shower glass so important?
The shower is used daily, this means that any kind of residue can deposit on the shower cubicle every day.
Residues that, if not cleaned properly, can contribute to ruining the structure of our shower. Just think of the drops of water that contribute to limestone creation, the number one enemy of crystal transparency.
Attacked by limestone, in fact, our glass will lose its luster and become opaque over time.
3 Fundamental actions to eliminate stubborn limescale from the shower glass
Every day, just after the shower, to prevent and eliminate limescale, remember to dry the glass each time with a soft cloth or with the help of a squeegee brush.
Subsequently to remove stubborn limescale from the shower glass,
we can spray SHOWER BRILL on the entire surface: descaling and protective anti-limescale detergent,
ideal for cleaning and removing limescale without the need for rinsing.
Thanks to its formula, SHOWER BRILL creates an invisible protective film on the material, which prevents the deposit of limescale and soap residues.
To maintain and prevent the formation of limescale in the shower, we recommend completing the cleaning of the bathroom with SANI-KAL BIO. The product is a biodegradable descaling detergent, excellent for surfaces heavily encrusted with limestone, urine,
soap residues and rust stains. Let's pass it once a month on the surface.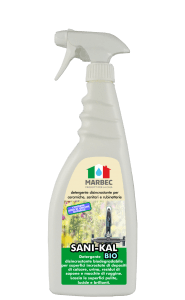 If a more intense action is needed, the best solution to deeply cleanse and eliminate the dirt that has formed over time is: SANI-KAL FORTE.
A descaling acid detergent with a controlled action that removes consistent limescale deposits from surfaces,
urine and rust stains, encrusted soap residues.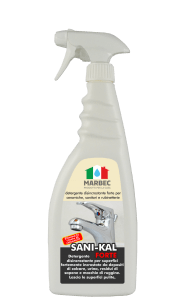 These simple tricks will also make daily cleaning easier and our showers more relaxing.