Outdoor cotto: let's see how to clean and treat it
Do you need to clean an outdoor cotto? With the help of RenovoArt and Marbec products your floor will lose all stains and keep its brilliance
Today we are going to talk about an intervention on an outdoor cotto in Tuscany and the professional craftsman of the
RenovoArt company is going to explain us how to clean and maintain an outdoor cotto floor over time.
Cotto has always been one of the most appreciated and loved materials and is suitable for both indoor and outdoor coverings:
it is in fact equipped with peculiar characteristics that make it versatile and resistant at the same time. The environments in
which it is located acquire a familiar and welcoming air, in short, a particular charm, all distinctive elements that give them a very
elegant style.
But despite the qualities described above, this precious material often requires careful maintenance, since
it has a tendency to spoil rather easily, putting its original beauty at risk. And none of us would like our outdoor cotto floor to
deteriorate, right ?!
Let's find out first what are the bitter enemies of outdoor cotto, which too often end up taking away its harmony.
Stains on outdoor cotto
Being a porous material, cotto has a very high probability of staining: damp, mold and limestone are the three
main factors that affect the formation of unpleasant patinas or stains, often very stubborn, and that take off
vigor and brilliance to the material. In addition, with regard to outdoor cotto (terraces, sidewalks …), the exposure
to atmospheric agents leads it even more to damage and lose its beauty.
But don't worry! Thanks to the work done by the professional craftsman of the RenovoArt company, we will find out how we can do
to remove these annoying stains and unsightly halos on outdoor cotto. In particular, the protagonist of this article
is an outdoor Tuscan cotto floor of a garden. Let's see better the characteristics of this variant of cotto.
Tuscan cotto
Tuscany is an enchanting region, with a thousand peculiarities, and certainly cotto is an added value that makes this
landscape a magical and characteristic place. In fact, you can find it in houses, churches, palaces, streets and squares,
as a building material and as a decorative element, and is considered the cotto par excellence.
Tuscan cotto is mainly characterized by a red color, which varies according to the area where the clay is extracted.
Versatility and resistance are the two keywords that concern it – both elements that make it
a material able to adapt to both elegant and rustic environments. Despite this, cotto, made up of clay and water,
retains liquids: the porosity makes it easy to create consistent deposits of dirt and thus, to treat outdoor cotto floors,
the best thing to do to ensure a perfect result is to contact the best specialists in the sector.
The talented craftsman of the RenovoArt company, specialized in the treatment of outdoor and indoor cotto surfaces,
with his great experience and knowledge of the sector, intervened and managed to make an outdoor cotto look like new.
Let's find out in detail how he carried out the outdoor cotto cleaning to maintain its characteristics over time.
Outdoor cotto cleaning
RenovoArt's expert craftsman performed a thorough cleaning on an outdoor cotto floor that had never been treated and
had been contaminated due to biological encrustations, limestone and oil stains.
First he applied SGRISER, alkaline detergent / solvent for strong degreasing dewaxing washing on
all stone materials, in order to remove oily stains. Then he used VIACEM, a strong buffered acid cleaner
for cotto and terracotta, brick, klinker and all materials resistant to strong acids.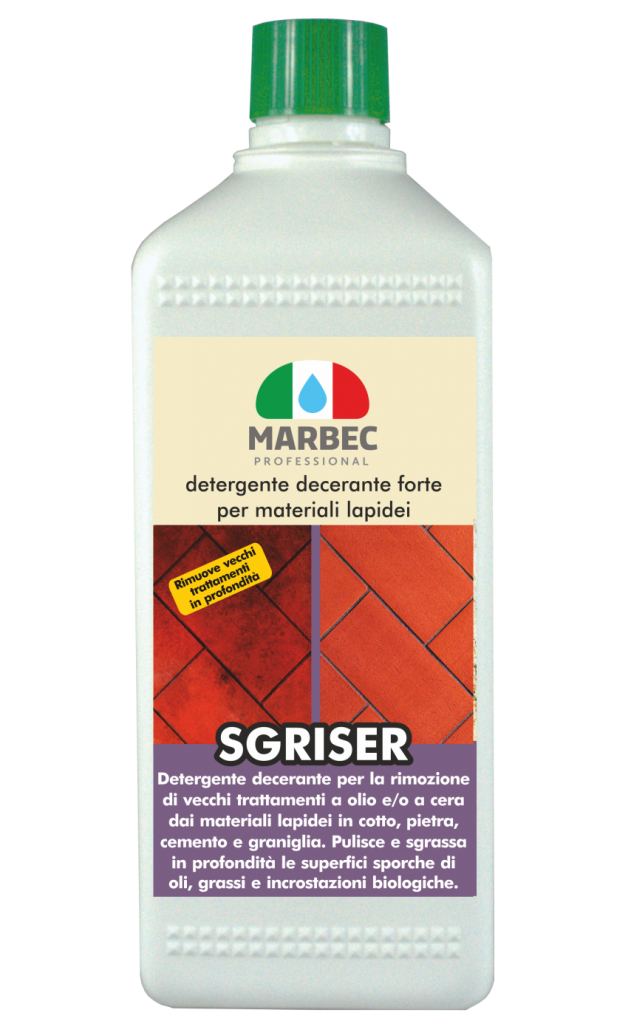 He spread SGRISER on the surface, let it act 48 hours, and then after spreading VIACEM and leaving it in turn
to act 20/30 minutes, intervened with a single brush and a brown disc, rubbing vigorously and rinsing
all with water. Finally he washed the surface with a high pressure washer. Thanks to the combined action of the two products
together with the brown disc, he managed to deeply eliminate all biological and calcareous residues from the surface.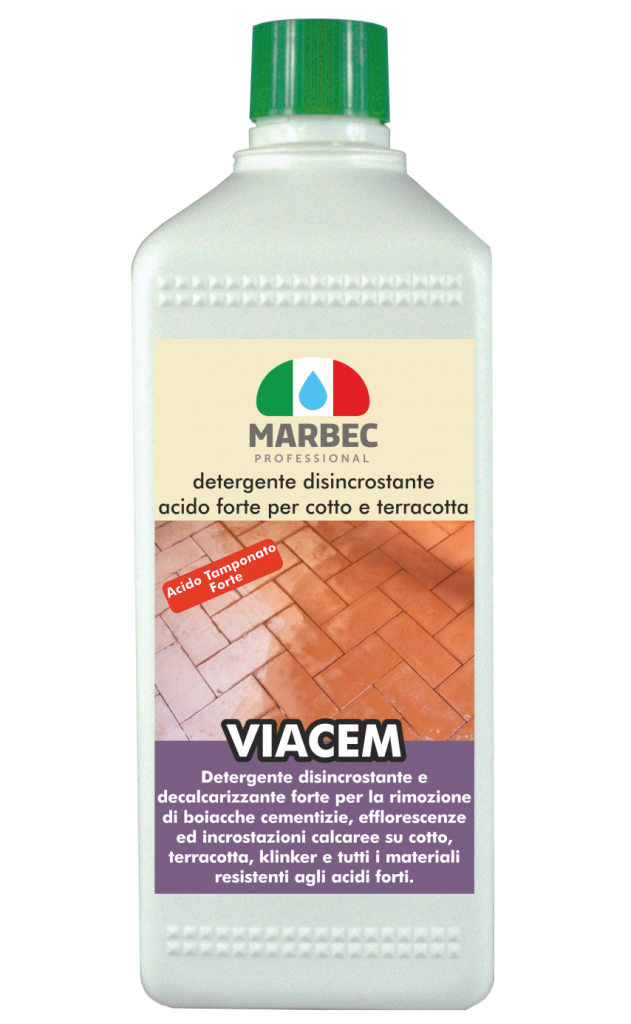 Outdoor cotto maintenance
Once the cleaning was done, to fight the "tough battle" against stubborn stains, he treated the outdoor cotto floor with TIM,
protective for water-repellent and oil-repellent treatments on absorbent stone materials. This product is a panacea
against the appearance of stains and halos, gives the outdoor cotto floor a hydro-oil repellent protection and protects
the material over time, avoiding the formation of efflorescence and dark spots due to rising damp. In addition, it keeps the
material in its original state and prevents or slows down its natural degradation.
Later, the RenovoArt professional applied PAV05, a protective finish with excellent anti dirt, anti degradation and
weather resistance properties for absorbent stone materials placed outside. It gives tone to the material and
an additional water-repellent protection, and has an anti vegetative component inside that significantly reduces the creation
of algae and moss and makes the surface easy to sweep with a mop.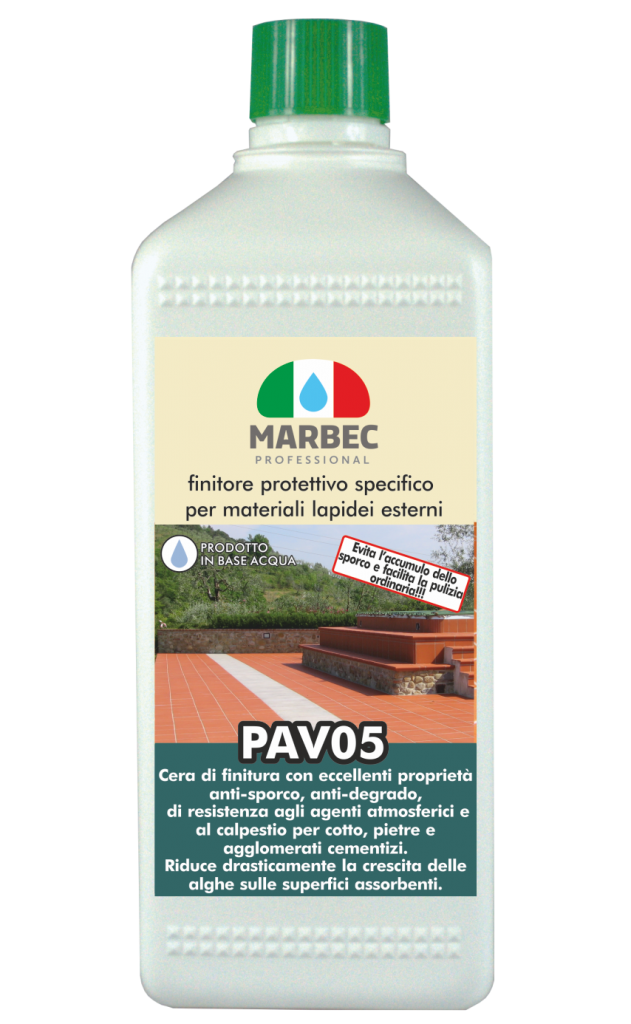 Thanks to the excellent professional intervention of the brilliant craftsman with Marbec products, combined with proper maintenance
in time that requires the application of PAV05 wax 1-2 times a year, the outdoor cotto will maintain its protective and aesthetic original characteristics over the years and will be protected from the appearance of annoying stains and halos.
If you also need to clean and treat outdoor cotto, contact us immediately and ask for a free quote. What are you waiting for?
COMPANY EXECUTING THE WORKS: RENOVOART
Click here and look at the portfolio of the works carried out by RenovoArt