Do it yourselfer, The council of expert
19 June 2020
How to treat external wood: useful methods and tips
Are you looking forward to dinner under your fantastic gazebo? Make your garden, your terrace bloom again, find out now how to treat outdoor wood!
Summer is coming and not letting her enter our homes would be decidedly rude.
Seriously, this period is the ideal time to literally open the doors of our home and enjoy the good weather outdoors. But before this, we need to think about the preparations.
So, let's not waste any more time and take advantage of these mild temperatures to clean, fix, restore and, why not,
also make original components for our terraces and our gardens.
Let's get to work and find out immediately how to treat external wood.
How to treat external wood: restoration
The external wood is undoubtedly very exposed to atmospheric agents, sun, water, wind,
which continually endanger its appearance and integrity.
Year after year, the wood tends to lose color and become opaque. Passed the winter it requires
a deep maintenance to get back on track.
So every year, whether it's a terrace floor, tables or chairs,
to maintain them and make their beauty shine, it is necessary to intervene with specific treatments.
If you are wondering how to treat external wood you should know that maintenance must be constant and
it must essentially include two types of treatments: restoration and protective ones.
To renew the external wood, first of all we must start cleaning the surface, removing all residues and stains with DETERCLEAN: an eco-compatible and biodegradable degreasing detergent for outdoor wood.
Removes deposits of dirt, smog, dust, fatty deposits, algae and molds, giving the surface a fresh and natural appearance.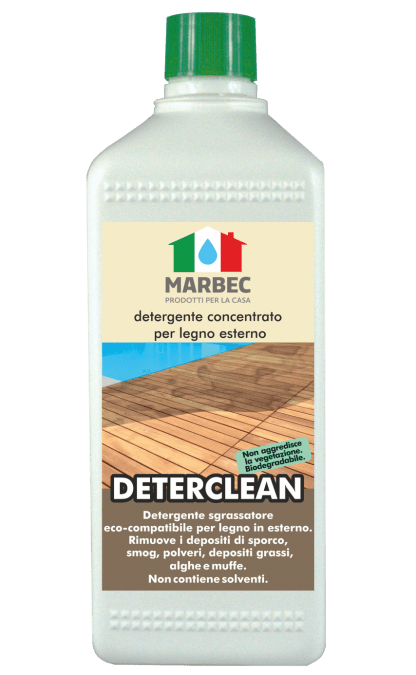 If our wood looks particularly aged and gray, it will be appropriate to treat it with SMACCHIO LEGNO
an intensive detergent to remove the aging patina, algae and mold from unprotected wood exposed to the outside.
This stain remover renews the natural appearance of wood by preparing it for the application of a new protection.
To remove any residue and stain from the surface in depth, we recommend using SMACCHIO LEGNO with BLUE BUFFER,
ideal for extraordinary cleaning on delicate materials.
Once the cleaning and deep restoration of the surface are finished,
to ensure a fair and lasting protection to our external wood, we apply 2 coats of OLIO41 on the material,
oil-waxy impregnator for wooden floors and furnishings placed outside.
Easy to apply, OLIO41 forms a water-oil-repellent, resistant and non-sticky protection on the surface that prevents the aging of the wood without altering its natural appearance.
To protect the wood from UV rays, from the appearance of fungi and moss, it is always better to pass the surface
with an anti-wear and anti-dirt finisher: BARRIER.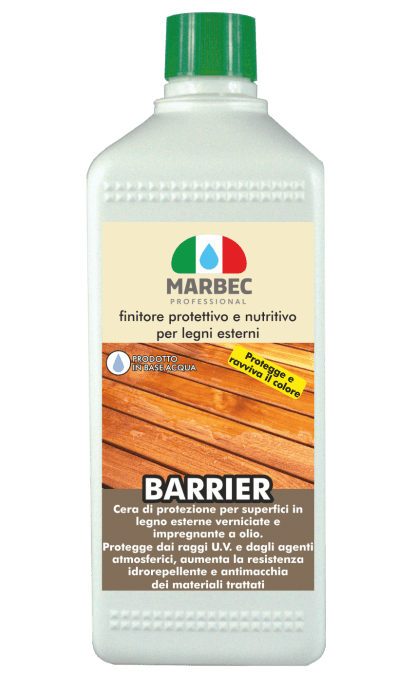 How to treat raw wood: DIY constructions
For DIY construction, we recommend trying raw wood.
Although working with raw wood is not easy, with a little patience, passion and using the right products,
the latter will give a lot of satisfaction.
Before assembly, of course, this type of material requires precise and punctual preparation.
So, if we decided to build a wooden structure, we are in the right place to find out how to treat raw wood and maintain its natural beauty over time.
Let's dwell on the main steps:
Planing: rough wood usually has imperfections,
to uniform them you have to "plan" the surface with the help of abrasive paper or planer. In this way we will eliminate the imperfections present.
Cleaning: once the previous phase has been completed, it is necessary to thoroughly eliminate the residues and dust created by the planing.
To do this, we can pass a dampened cloth, wrung out very well, with simple water on all the wood.
Protection: Raw wood as beautiful as it is delicate is characterized by a particular porosity and it is precisely for this reason that,
to remain beautiful and healthy, special attention is needed.
That's why at this point it is important to treat wood with products that on the one hand do not alter the natural effect
of knots and grain of the wood and at the same time protect the entire surface.
To treat raw wood, we strongly recommend water cycle products.
These products are easy and quick to apply and, thanks to their specific composition, they dry very quickly.
In fact, the entire treatment can be carried out within a day!
Let's not forget among other things that these water cycle products are environmentally friendly, contain,
compared to other compositions, fewer VOCs (volatile components) and are eco-compatible.
HYDROIL ESTERNO: a water-based oil-resin-waxy protective impregnator for all rough wood surfaces
placed externally. It gives the wood resistance to water, stains and degradation.
Slightly pigmented, it enhances the natural color of the wood leaving a transparent and opaque finish on the surface,
ensuring greater stability and protection from U.V.

Water-based anti-degradation oily impregnator for external wood.

At the same time, it enhances the natural color of the wood leaving a transparent and opaque finish on the surface.
Always to prevent the appearance of nasty surprises, it is good to end the treatment with BARRIER, which protects against wear,
our wood from dirt and aging.
A small recommendation: in the summer months, when we apply protective coatings, we remind you not to do it in the sun because the liquid would dry too quickly without having the time necessary to dry uniformly and gradually.
If possible, it is recommended to carry out the operation at an ambient temperature between 10 and 25 degrees.