An effective anti-infiltration treatment: ACQUABLOCK
Do you know that this is the best time to prevent water infiltration?
On these beautiful summer days, it is difficult to think about cold and rainy winter, but this is the ideal moment to prepare our home to face the cold season in the best way. Taking advantage, for example, to make an effective anti-infiltration treatment.
Infiltrations and external surfaces
Water infiltration is a common and very insidious problem that affects our homes more than we can imagine, endangering their beauty and, above all, their safety. The infiltrations can affect and bring unpleasant consequences to the entire building, but the areas most subject to this problem are, without a doubt, outdoor floors such as terraces, balconies, sidewalks, lanes; in fact, these are more exposed, compared to the rest of the house, to the winter weather conditions such as rain and humidity. Water is a very insidious element because it succeeds in penetrating and infiltrating even in the most improbable spaces, which is why it is important that surfaces, especially exterior surfaces, are designed and built to perfection, above all:
Built with an adequate slope that allows water to flow in the correct way;
Treated with anti-infiltration treatments: the surface waterproofing must be perfect.
Moreover, the external paving, being exposed more than the other surfaces to the "negative climatic events", need careful maintenance.
Let's discover together where the infiltrations are born and why it is so important to periodically carry out specific anti-infiltration treatments.
Infiltrations causes
Water: as is easily understood, the main cause of infiltrations is water. The cloudburst typical of recent years, which in a few minutes generate large amounts of rain, are the basis of the main causes of infiltration.
Stagnant water: if water settles and stagnates, it rots and generates moisture and mold.
Excessive humidity: caused by adverse weather conditions or lack of an adequate insulation system.
Materials wear and degradation and waterproofing treatments.
Infiltrations consequences
If you do not delay quickly, over time, infiltrations can cause both structural problems, accelerating the degenerative process of construction materials, and aesthetic damage. For example:
Structural damage: swelling of surfaces and cracks.
Aesthetic damage: deterioration of surfaces, appearance of mold, stains and indelible stains.
Infiltration solution
In anticipation of the winter season, to avoid these unpleasant problems, act in advance becomes indispensable. So, before the irreparable signs, due to infiltrations, appear and taking advantage of this beautiful season, where it has not rained for some time; today is the ideal moment to apply a DIY anti-infiltration treatment to your outdoor flooring: ACQUABLOCK.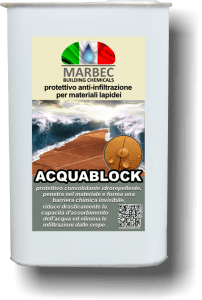 Easy, fast and convenient, ACQUABLOCK is an ideal product for all absorbent stone materials (cotto, stone, porcelain tiles, marble, granite, porphyry, plaster, cement, etc.) that penetrates into the material and forms an invisible chemical barrier, drastically eliminating the water absorption capacity and infiltrations from cracks. With ACQUABLOCK you will not need the help of industry experts, you can avoid invasive work (eg surface dismantling) and high restoration costs. You will only need a few dry and sunny days, to ensure the surface a perfect and complete drying. Recommendations for use:
Use the pure product, obviously, before application, the surface must be perfectly clean and dry.
Evenly wet the surface to be treated until saturation and absorption. Apply the product by spray or brush. Insist on the joints and cracks. Be careful: before applying the product check that there are no thicknesses or cracks on the surface with a thickness greater than 1 mm and a half, if so, before treatment, it is necessary to fill them.
After 5-10 minutes, remove with a soft cloth the product not absorbed from the surface.
Leave the surface to dry completely naturally (6-8 hours)
Once perfectly dried, your surface will be radiant and will remain protected for many years! READ ALSO: Rust stains on stone: how to eliminate them?