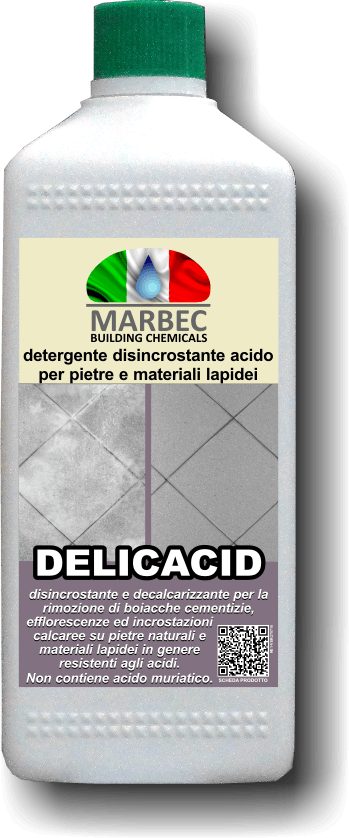 Decrusting detergent acid for stones and stone materials
Cleaning product for cleaning decalcarizzante decrusting and for the removal of cement slurries, efflorescence and calcareous incrustations for stones, agglomerates and ceramic materials in general.
CHARACTERISTICS AND USE
For washing decalcarizzante of all the stone materials (brick, stone, Klinker, stoneware, grits, slabs, Cement, Palladiane, glazed ceramics resistant to acid). Avoid use on calcareous stones polished, slates (overhead), grits and cementitious agglomerates transparencies. Does not contain hydrochloric acid. Fumiga not and does not develop toxic vapors. Can be used in water cleaners, scrubber-dryers and other equipment for washes of large surfaces.
INSTRUCTIONS FOR USE
You can use either pure or diluted in water. Pure: on deposits and calcareous deposits consistent and tenacious.
Diluted 1:1-2 in water: for the washings to where it is needed a normal action decrusting decalcarizzante-and neutralization of previous alkaline washings.
Diluted 1:3-4 in water: on calcareous stones not polished marble and not polished. Spread DELICACID on the surface and let it act a few minutes.
Diluted 1:5-10 in water: for washings after the laying of ceramic tiles.
Wipe the surface with pads or discs in plastics fibers or brushes made of nylon, tinex or carborundum; repeat the wash if necessary. Always rinse with plenty of water.
YIELD
to remove substantial calcareous residues 1 lt /4-6 sqm;
for normal washings 1 lt / 10-15 smq;
on ceramic materials 1 lt / 20-40 sqm.
Packs
1 litro – 5 litri – 20 litri.
Ask for information about the products
Request a free consultation by filling out the form below and sending us your request