Terracotta treatment: what are the differences between a pre-existing floor and a new one?
Does the same material, in different contexts, need differents cures? Let's find out together!
The treatment of terracotta surfaces is one of our speciality: maybe it's because we're in Tuscany and we love particularly this kind of material, or maybe because it's delicate, but if it's treated with the right products it can bear fruit, probably because we cooperate with the best experts of the sector.
In this article we are going to tell you two recent works made by the artisan Impresa Pippolo di Timpano Giuseppe based in Bologna. Many times you ask us if there are differences between the treatment of ancient terracotta flooring, but recently laid, and ancient terracotta flooring, perhaps ruined by the time. So let's look at what they are.
Work performed on pre-existing terracotta
Let's start from that which might seem the most delicate work, which is the treatment of a pre-existing recovered terracotta.
Washing with VIACEM
VIACEM is the strong acid descaling detergent for terracotta surfaces. This product is for the removal of possible cement grouts, efflorescences and chalk deposits that over time could have been formed on the surfaces. Compared to the muriatic acid it exhals much less corrosive fumes, so:
It does not risk to ruin the terracotta surface;
It has a good emulsifying capacity of the dirt;
It has a more controlled dissolution action.
At this point Impresa Pippolo di Timpano's experts passed PRIMAMANO NEUTRA, that is the product with a waxy-resin emulsion for primer treatment of porous materials like terracotta and stones.
PRIMAMANO NEUTRA lets transpire the material and eliminates the decohesion.
And now let's think about the finish with ROYAL WAX and IDROFIN MATT.
To make the surface brilliant and facilitate the maintenance, our experts passed a coat of ROYAL WAX, the specific waxy finisher concentrated for the finish of terracotta with scratchy surface like handmade terracotta and after the finishing touch, that is a coat of IDROFIN MATT, the specific product for the finish treatment of terracotta materials, stones and cement laid inside, that lets transpire the material and facilitates the ordinary cleaning.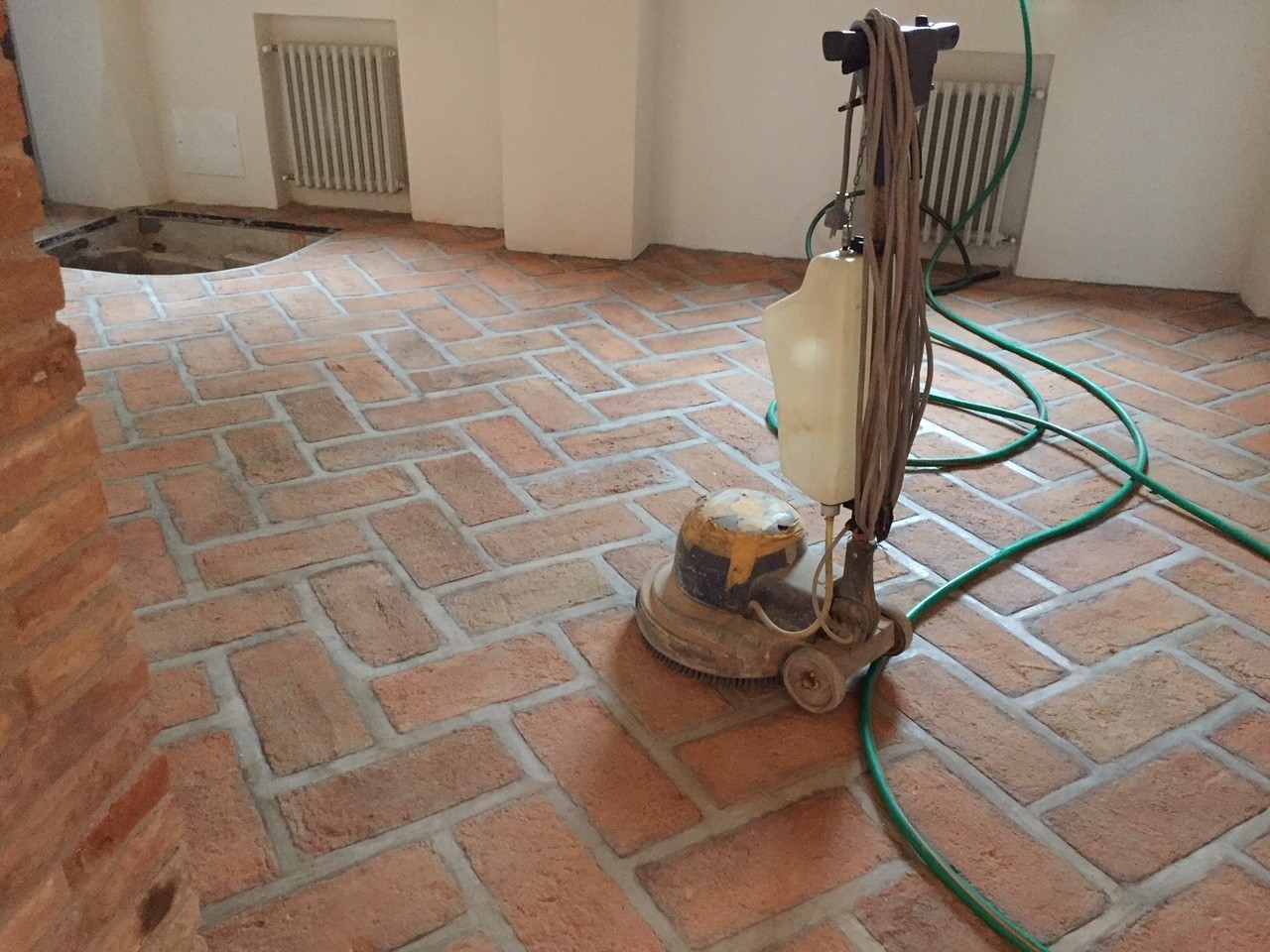 Treatment performed on new terracotta
Now let's look at how the new terracotta has been treated by Pippolo's experts.
As first thing, since in this case we don't need to remove perforated deposits over time, a coat of IDROWIP has been passed to protect the terracotta surface from the rising damp. Also in this case a coat of PRIMAMANO NEUTRA and ROYAL WAX has been appled, but together with TUSCANIA OIL to uniform and to darken the colour. TUSCANA  OIL is an oily-wax impregnator with a wet effect for terracotta surfaces, stain-resistant protection that saturate the porosity of the material without leaving superficial films. And finally, also in this case a coat of IDROFIN MATT has been applied.
The results have been more than satisfactory in both cases and especially our terracotta surfaces will preserve their beauty and their brightness over time.
EXECUTOR OF THE WORKS
IMPRESA PIPPOLO DI TIMPANO GIUSEPPE
PIAZZA DEI MARTIRI 5/2 40121 BOLOGNA
TEL. 347/9783680