The council of expert
8 May 2020
Water infiltrations: stop with a transparent waterproofing!
Water infiltrations? No thanks, we protect our floors and surfaces with an effective treatment: ACQUABLOCK!
There is a danger that constantly threatens the surfaces and floors of our home; this is a highly harmful enemy against which we must necessarily defend ourselves and take preventive action, it is called: water infiltration.
Once filtered, water can quickly irreparably ruin any type of surface, both internal and external,
and then the structural damage becomes difficult to recover.
If you think about it in fact, whenever you recognize any infiltration signal such as mold or humidity spots,
it is already too late!
The only way to defend our surfaces from this unpredictable threat is to do a good transparent
waterproofing treatment.
Whether it is home floors, terrace tiles, garden paths, waterproofing is the only action
which allows us to act in advance and safeguard the structural and aesthetic integrity of our components.
Causes of water infiltration
Finding the precise cause from which an infiltration arises is never so simple.
Water infiltrations can be caused by stagnation of liquid produced by heavy rains, rising damp, deterioration of the waterproofing elements, the lack of insulation for underground structures or even by poor waterproofing components.
Stop water infiltration with ACQUABLOCK
The only thing that can help us and prevent the damage of water infiltration is to act in advance and perform
a good waterproofing treatment capable of creating a real barrier against water.
As always, to solve and prevent this problem, Marbec comes to help us with ACQUABLOCK: an effective transparent waterproofing treatment suitable for any type of floor. thanks to its special composition, this product waterproofs the surface, prevents water absorption and eliminates infiltrations from cracks.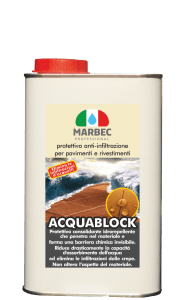 Easy and simple to apply, the product is used pure on dry and clean material.
Spreading it with a cloth or brush, evenly wet the entire surface to be treated and wait for the absorption.
For an optimal result we must insist on the joints and cracks.
After 5-10 minutes it is already possible to completely remove the unabsorbed product from the material, rubbing the surface with a soft dry cloth or absorbent paper.
ACQUABLOCK, by forming a powerful invisible chemical barrier, drastically reduces the absorption capacity of the water
from the materials. Once the waterproofing treatment has been carried out, the water will no longer be able to penetrate even the most porous materials, from the cracks or the joints of the tiles; thanks to ACQUABLOCK in fact, the drops slide quickly from the surface.
We recommend applying one coat on low absorbent stone materials and two coats on absorbent stone materials.
The result will be surprising, don't you believe it?
Let's watch the videos together!