The council of expert
1 April 2021
Stained external travertine: how to clean it?
When mold and stains appear on the travertine it's a real problem. Find out how to clean the stained external travertine to restore it to its original beauty.
Well, how beautiful is the travertine of our paths?
Travertine, among the building materials, is undoubtedly the one that succeeds with its natural warmth
to create a classic yet regal atmosphere.
All true, until this wonderful stone is sprinkled with stains and molds.
Today we will explain you, in fact, how to clean the external stained travertine to restore it to its original majesty and beauty.
Travertine, a material used from ancient Rome to the present day, is a sedimentary stone,
calcareous with a very porous structure.
Thanks to the oxides developed during sedimentation, the color of the travertine varies from milky white to walnut and
it can even have shades ranging from yellow to red.
Ideal for internal and external coatings, like all precious natural stones, travertine also needs special care
both during installation and maintenance.
So let's not be fooled by the resistance of the material and remember that stains left to chance and poor maintenance can cause opacification of the stone and at worst holes on the surface.
On external surfaces, inevitably much more frequently exposed to the bad weather,
the appearance of mold and moss is on the agenda and it is not so easy to prevent and avoid.
Although travertine is also characterized by good resistance, it certainly needs special care.
The right products to clean a stained external travertine
So today, let's try to understand what care our terrace, staircase, travertine pathway,
need to remain perfect and intact over time.
First of all, let's remember that the cleaning of travertine must be periodic and
which must be carried out with neutral, delicate, suitable products capable of respecting the porous, absorbent and not very acid-resistant structure.
When we have to clean travertine we choose non-aggressive products that do not alter its original porous structure.
Let's immediately discover the most suitable ones for cleaning the external travertine marble.
Travertine, as mentioned above, due to its porosity, easily stains in contact with acid,
oily and organic substances. That's why at the first appearance of spots you have to run very quickly for cover.
Let's start by discovering how to clean an external stained travertine and what are the most common stains:
the hideous oily spots, caused by vegetable and animal fats.
Fortunately, however, to eliminate them easily, an excellent product comes to our rescue: TIXO.
A strong thickened alkaline-solvent stain remover, specific for the removal of oil stains and
grease of natural origin on all stone materials.


Stain remover to remove oil and grease stains of natural origin.

If your beautiful travertine path has been invaded by mold and black moss, we recommend ALGANET,
a specific stain remover to remove even substantial deposits of biological origin from external stone materials.
To remove ferrous sulphate, on the other hand, we can wash our travertine with TOGLIRUGGINE LIQUIDO,
a specific cleaner for the rapid removal of stains due to contamination of rust and metal oxides
from stone materials in general.
For the annoying and stubborn stains caused by wax, we use SOLVOSILL, a strong thickened solvent stain remover,
specific for the removal of stains of synthetic origin on all stone materials, also ideal for stains of lubricating oils.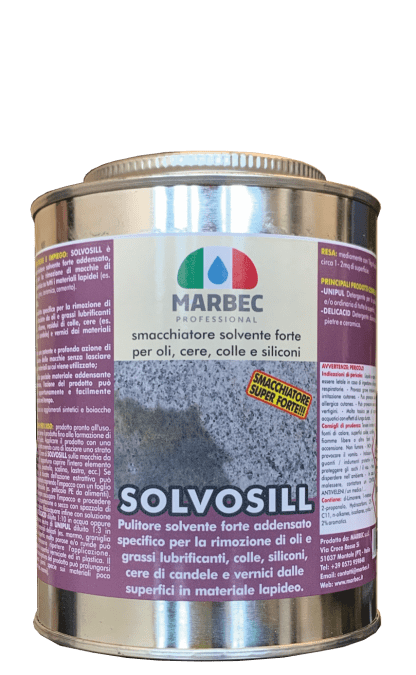 After all these treatments, the external travertine will be as good as new.