The council of expert
10 June 2019
How to clean the floor joints effortlessly?
If you are wondering what is the best way to clean the joints of your floor effortlessly, this article is absolutely for you!
If making a floor shine is already complicated, making the joints shine is even more difficult!
In a list of home problems, after the dust and the halos that appear on the windows, in the third position we have the joints of dirty floors that become black with usual trampling!
If you love cleaning and home hygiene as much as we do, we are sure that you will fully share our thoughts and we are certain that entering the house and staring at the floor one of the most recurring questions that comes to mind is:
how can I clean the floor joints effortlessly?
Infact, if you pass the rag daily, you are never satisfied with the brilliance of your floor because those annoying lines irritate your eyes and negatively condition your mood, you are in the right place to find an effective solution that will allow you to finally have white leaks and shining.
Why do the joints get so dirty?
Dirty grout on floors are a worry for lots of people, despite their solid structure, in fact, these cement substances are composed of porous materials and therefore subject to holding liquids and releasing the resulting stains.
Why is it important to clean dirty joints?
There's nothing to do, a floor but also a newly cleaned tiled wall covering, whether in the bathroom or in the kitchen, with dirty joints, it continues to look bad.
However, the aesthetic aspect is not the only problem that dirty joints bring; in fact, in those tiny spaces between one tile and another, not only dirt accumulates but also bacteria, germs and molds.
This is why it is essential to remove dirt from joints to ensure the beauty of our home, but also to keep our rooms healthy.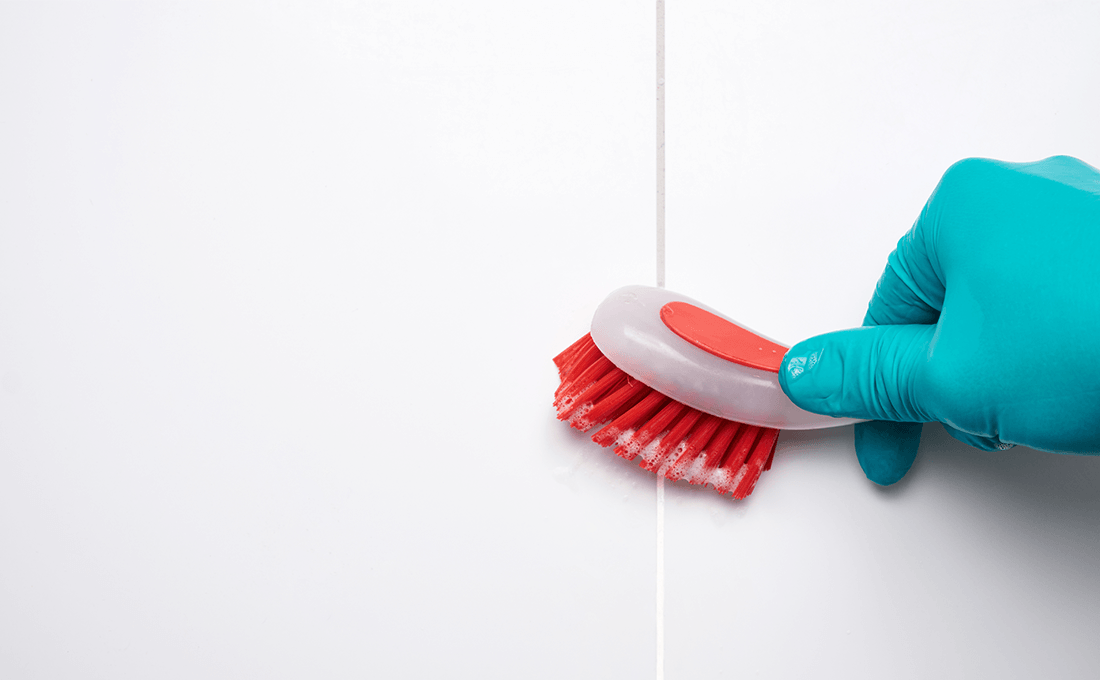 Now that we understand where the problem of blackened joints comes from and why it is absolutely necessary to clean them, we must find effective solutions.
To solve this unsightly problem, fortunately we come to the rescue of both natural remedies and professional cleaning products, let's discover them together!
Eliminate dirty joints: from grandma's advice to professional cleaning products!
When we decide how to clean the floor joints without fatigue the dilemma is always the same:
is it better to use natural remedies or professional cleaning products?
We often ask ourselves this question because:
a) natural remedies require a lot of effort and in the end, they do not give us the desired results several times.
b) Very often the products that we find on the market to clean the floors joints are not able to eliminate the dirt but at the same time ruin the tiles.
However, today we want to present you three exceptional remedies that do not damage the tiles and that will ensure an excellent result.
Bicarbonate: the properties of this substance are infinite; by preparing a mixture with hot water and baking soda we can even clean the joints. In order we apply the solution between the tiles and let it work for about 30 minutes. Then we dry everything with a dry cloth.
Steam: high temperature is the enemy of blackened joints. We can pass all the joints using an electric broom that creates steam or a rag soaked in boiling water.
Surely these two methods are very tiring, to save, we recommend two products for professional cleaning:
PULI FUGHE and PULI MUFFE.
PULI FUGHE: a spray that easily and thoroughly removes dirt in the joints of floors and walls. It contains neither acids nor bleach so it does not damage ceramic tiles.
We can spray the product directly on the joint, rub with a cloth and rinse.
Then, to eliminate mold, fungus and sanitize the entire surface, we can wash our joints with PULI MUFFE, a practical and easy to use product. The procedure is very easy: apply it on the tiles, let it work for 10-20 minutes and pass over the surface with a sponge or a soft cloth.
In the case of large deposits of mold and algae, leave PULI MUFFE acting for 30-60 minutes and, if necessary, use a nylon brush / pad.
Also great for cleaning shower boxes!
Once finished with these two products for a professional cleaning, floors and joints will back to their original splendor, the results will be immediately visible!
READ ALSO: How to clean a matt or shiny porcelain floor tiles