The council of expert
26 August 2020
Cleaning porcelain tiles after installation: how to do it perfectly
Find out, step by step, how to clean porcelain tiles after laying. Getting rid of cement residues and heavy dirt on your floor will be child's play!
There is nothing that gives us more satisfaction than renovating the house of our dreams.
Floors play a key role in this and when the time of the pose comes,
we can really say that our house is really taking shape.
After the construction site, of course, there is nothing that enhances our newly installed floor more than … a good and effective cleaning.
In fact, washing after installation is an indispensable phase for all maintenance interventions.
In this phase, laying residues and all types of construction site dirt are eliminated such as: mortar, glue, paint, etc.
These, if not adequately removed, can later be particularly dangerous as they act as a clinging agent for dirt
which will be released from normal use of the floor, thus distorting the actual appearance of the flooring.
In fact, to perform an excellent cleaning of the porcelain tiles after installation, it is necessary to follow precise precautions.
Post-construction cleaning is very demanding but don't give up and, above all, let's not make the mistake of diminishing the importance of this phase.
Cleaning porcelain tiles after installation: phases
Today we will therefore illustrate below what are the correct steps to carry out a porcelain tiles cleaning after the installation
of these wonderful floors.
1- Before starting the washing we remind you that we must have a little patience, it is necessary in fact,
first of all, allow the cement grout to dry (at least 3-4 days).
2- At this point we are ready to start with our porcelain tiles cleaning after installation and,
of course, to perform it perfectly, we must use the help of a professional product
as POWER DET: a concentrated cleaner with an acid-degreasing function,
specific for post-construction and extraordinary cleaning of surfaces in polished and rough porcelain tiles, glazed ceramic, klinker.

Intensive stan remover for porcelain tiles floors.

We always avoid the use of DIY procedures and products such as muriatic acid, a corrosive and dangerous substance,
in this phase it is essential to preserve the health of the floor (corrosion of profiles and joints) and also of the installer.
POWER DET is an intensive stain remover for porcelain tiles floors.
Its descaling and degreasing concentrate is highly specific for eliminating stubborn laying residues, halos and stains that are difficult to remove on porcelain tiles, klinker and glazed ceramic.
If the floor is very dirty or / and covered with a lot of concrete, it is possible to intensify the action of
POWER DET using it pure.

3- We always work one meter at a time and abundantly wet the surface with the product,
finished leave it to act for 10-15 minutes, making sure it does not dry out.
4- After 10-15 minutes, to eliminate any residue, vigorously rub each tile of porcelain tiles,
to do this in the best possible way we advise you to combine the power of POWER DET with that of the BLUE PAD.
We rub well until all the patina and dirt of the yard are removed.
5- Once finished, we recover all the dirt and residues left on the floor with microfiber cloths.
6- Once finished, rinse the floor with plenty of clean water until the product is completely removed.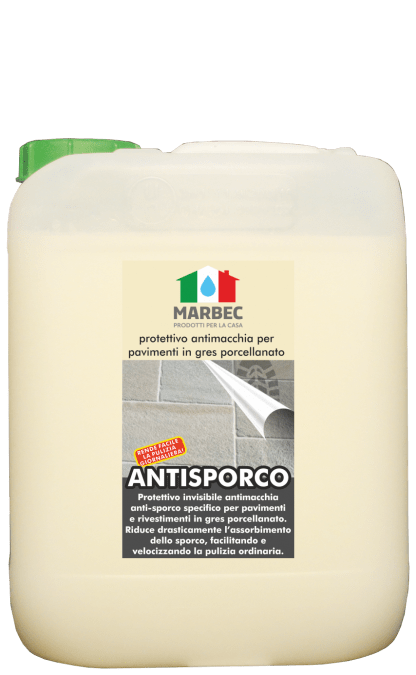 Once the cleaning is done, let's not forget about the protection.
To protect porcelain tiles and joints from daily dirt, with a completely dry and clean surface, spread ANTISPORCO, an excellent protective product that forms an invisible chemical anti-stain barrier on the surface,
which does not create a film and does not alter the appearance and color tone of the material.
Also remember that if this product is applied before grouting porcelain tiles floors,
it prevents the grout from settling in the micropores of the material, significantly facilitating post-construction cleaning.
At this point we can consider ourselves more than satisfied and the result will make our heart beat faster.
After the porcelain tiles has been cleaned, our floor will shine and be ready to welcome all of our daily adventures.
To keep it clean and above all sanitized, however, remember to use suitable products for ordinary cleaning, such as:
GRES LINDO for a matt porcelain tiles.
A deeply concentrated detergent for all ordinary dirt, even the most stubborn, from low-absorption and non-absorbent materials where it is necessary to carry out an easy and quick domestic cleaning action.
GRES BRILL for a glossy porcelain tiles.

A concentrated detergent for frequent washing of porcelain tiles floors, specific for cleaning polished and semi-gloss porcelain tiles floors.