The best work of the month
4 January 2021
Costruction cleaning: how to do it perfectly?
The best job in December takes us to L'Aquila and makes us discover how to perfectly perform a post-construction cleaning.
The best work of December takes us to visit a magical place: the Colacchi bookshop in L'Aquila;
we are particularly honored that the professionals of the company Pulito di Natura have chosen our products
to carry out the construction cleaning.
For a perfect cleaning, for each material and component, in fact, a specific product has been carefully chosen and
the result was amazing, so let's not waste any more time and let's find out every detail.
A particular construction cleaning
Libraries are enchanted places where you can breathe magic, where stories come to life and where endless journeys begin.
Some places have a special charm and the Colacchi library is undoubtedly one of them.
Entering and walking through corridors and rooms we imagined with open eyes thousands of enthusiastic readers
eager to go back through the doors of their much loved library.
The bond that is created between reader and library is in fact something unique and rare.
Each reader has their own favorite library and every time he returns he feels at home.
Thinking of these emotions and trepidations, the talented craftsmen of the company Pulito di Natura,
to best accommodate the "homeowners",  intervened with precision and zeal by carrying out a very thorough construction cleaning.
Each material, component such as stoneware, terrazzo tiles, windows, fixtures, has been treated individually with specific methods and products.
Let's find out in detail this very interesting intervention.
Construction cleaning: floors
The experts of the trade and those who have already found themselves struggling with a construction cleaning know very well how
demanding and tiring is to perfectly clean up a newly renovated room.
After renovating an environment, however, cleaning becomes essential and
it will greatly influence the future performance of the structure and its maintenance.
Let's take for example the cleaning of the floors after the construction, if this is not carried out perfectly,
using specific products, the floor after washing will always look dirty, matt and, even over time,
it will never look as bright and shiny as it should.
The choice of specific products for the after construction cleaning of floors is essential to guarantee an optimal result,
for this reason the professionals of the company Pulito di Natura have chosen DELICACID
to clean the entire porcelain stoneware surface: a concentrated acid detergent for the removal of cement residues, efflorescence and limestone encrustations from stone on porcelain stoneware, ceramic, and stone materials in general.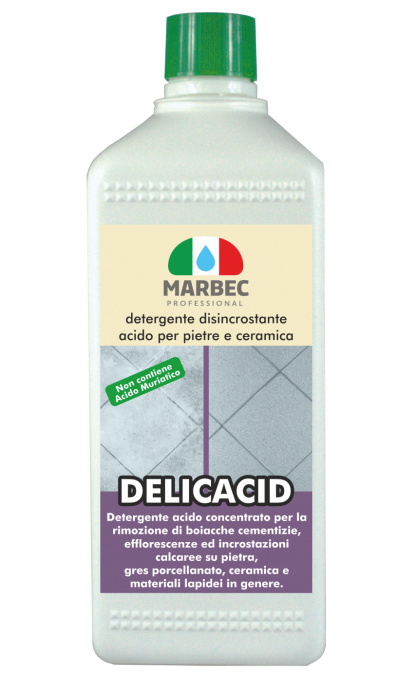 Specifically, after vacuuming the grout and cement residues from the installation,
the flooring was washed with a single brush and a detergent.
In the end, everything was rinsed with plenty of clean water and the small remaining cement residues were sucked up with a wet vacuum cleaner.
Floor cleaning: Terrazzo tiles
In the stoneware flooring, the talented craftsmen also found themselves dealing with the beautiful insertions of Terrazzo tiles
or better known as grits. Of course a specific grit treatment was performed for the cleaning
with UNIPUL: a product for cleaning all hard surfaces, ensuring an intensive degreasing action.
Effective even at low concentrations of use, it is characterized by low foaming properties.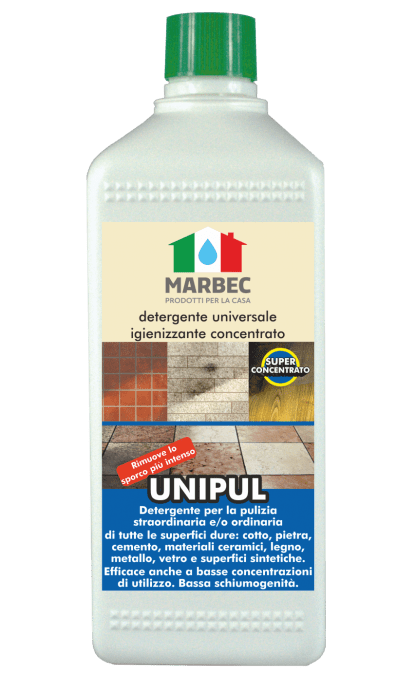 The wonderful result catches the eye looking at the before and after in the photos.
Construction cleaning: fixtures and windows
Once the cleaning of the floors was finished, it was time to clean the windows and fixtures.
Both on the windows and on the fixtures all kind of dirt had nestled, as normally occurs after a restoration of the environment: paint stains, cementitious residues, dust and much more, a real nightmare.
Fortunately, cleaning was facilitated by two exceptional products:
To clean the windows, VETRONET, a detergent for the daily cleaning of glass, mirrors, polished marble and glossy ceramic coatings,
was used. It is also ideal for cleaning stainless steel, plastic laminates and glazed surfaces.
This product dries quickly and does not need to be rinsed.

Universal sanitizing detergent for glossy surfaces.

Once finished, the windows immediately appeared bright and without halos.

UNIPUL was reused to clean the fixtures.
A versatile product that can be used for different materials.