Do it yourselfer
18 March 2017
Special stain removers: how to remove pen stains and graffiti from the walls
Questa volta vi parleremo di come togliere le macchie di inchiostro dalle pareti e dai rivestimenti in materiale lapideo
I never did find a work of art left on the wall at home from your child? You would like to remove the inscriptions and graffiti from the walls? In this second special on stain removers, we will give you directions on how to remove stains from stone materials caused by markers, aerosol cans and inks
Children know, love the colors and designs, but can happen that share a wall for a large white sheet and often can be difficult to effectively remove the ink! Another situation that can happen especially to those who live or have a business in the downtown area that meet in the outer wall full writing and drawings. Urban art or street art has become part of our culture and an art form recognized that left us emblematic works are representative of our time. Unfortunately in most cases do not have the good fortune to see artwork and our walls are ruined by graffiti that don't embellish but ruin the walls and art have really little to do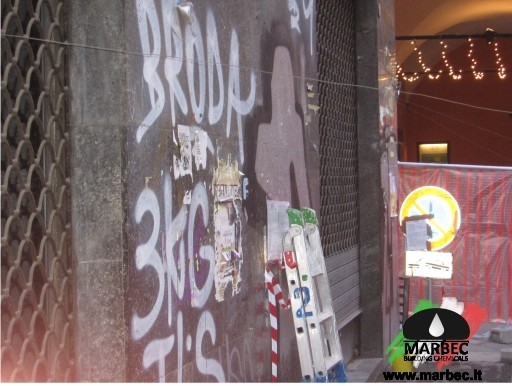 What are the most effective methods to work around this problem and remove stains sharpies and graffiti from the walls?
The specific product to remove graffiti, markers and inks from the walls PULIGRAF, the professional Marbec stain remover. PULIGRAF effectively removes stains from stone materials such as brick, stone, Porcelain, grit and protect painted surfaces, wood and anodized aluminum.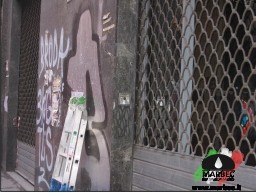 How do I use PULIGRAF?
The product must be applied with a spatula or a spatula taking care to leave an odd at least 3-5 mm on the stain to removeit. If necessary you can cover the extendable plastic wrap with foil, the film is fine. This causes slow down evaporation by increasing the duration of action. Once properly dried the compress you can proceed to its export dry with a nylon brush or broom. Finally rinse with water.
What the approximate consumption of PULIGRAF?
On average with 1 kg of product covers 1-2 square meters of area.
Marbec offers a range of specific producers to Remove stains from surfaces. Also read our article on how to Remove residual fertilizer from exterior walls!