Quick and easy maintenance to renew painted frames
How to renovate the fixtures of the house
Renewing the fixtures, which are doors or windows, gives the house that touch of novelty and truly exceptional change. Being able to do it yourself is even more exciting and satisfying, it is precisely for this reason that today we want to show you a simple, fast and do it yourself way to renew painted frames.
The DIY to renew the painted frames of our house, without a doubt, requires a certain and precise organization. For a good result, the work must be thought out and organized in the correct way and the line of appropriate and highly professional products Marbec will help you to do it. Therefore, for a simple do it yourself, follow our advice and renew your painted fixtures will be really a breeze. Let's find out all the basic steps and advice.
Painted wooden frames
Wood is a living and vulnerable material that tends to change over time; even more so is the external one. In the same way, the wooden window frames enjoy an undeniable charm and beauty, but they need, in contrast to the "modern" materials such as PVC or aluminum, to be periodically maintained. In fact, the wooden doors or windows, being exposed all day long to atmospheric agents such as the sun, rain, thermal excursions, etc., tend to ruin very easily. The paint lose its brightness quickly and rising, creates white spots and cracks on the surface. These unsightly damages, with the passage of time, can cause serious structural problems and threaten in this way, the integrity of the wood and therefore of the frame itself. This is why an ordinary maintenance is very important, not only to guarantee a satisfactory aesthetic result but also to keep the fixtures in good condition, guaranteeing our home the right protection and insulation. So, even you postpone the renovation of the fixtures over and over again, don't worry, you are in good company. From today, however, thanks to Marbec we can make maintenance much easier, faster and cheaper, consisting of 3 fundamental steps, which will allow us to let shine and protect our painted windows, without sanding them and using much less effort than expected.
But let's go to discover the 3 fundamental phases for a good renewal of the Marbec fixtures.
Treatment stages
As previously mentioned, the help of professional products allows us to facilitate the maintenance phases, ensuring a surprising and optimal result from every point of view. Premise: to carry out this treatment it's not necessary to dismantle any fixtures, at the same time if someone wanted to do it, to work with more tranquility and to easily reach the most insidious parts of the fixtures, you have to remember to prepare the space dedicated to the work. To support the frame, it is necessary to have two trestles, then do not forget to protect the workspace with sheets or cardboard, so that it does not accidentally ruin. 1. Cleaning: as a first step it is advisable to degrease and remove deeply all types of dirt (smog, dust, greasy substances) that inevitably crust on our fixtures. For perfect cleaning, we can use DETER CLEAN, an external wood cleaner that cleans without damaging the protection and the varnish of the wood. Once washed with DETER CLEAN, the wood looks fresh and natural.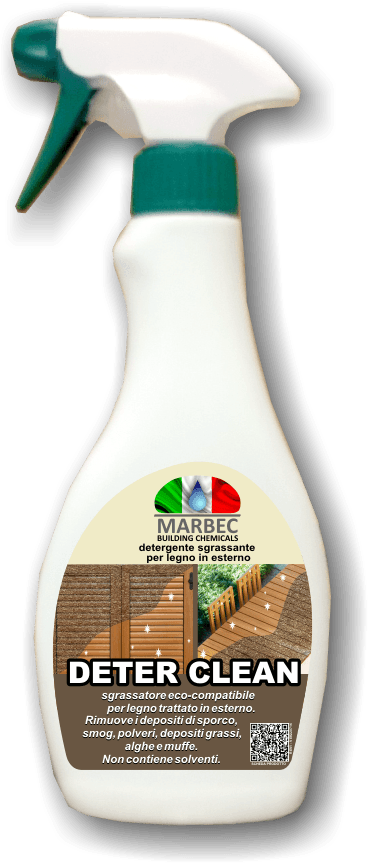 2. Remove the opalescence: after cleaning, once the entire surface has been cleansed and dried, apply a light coat of OLIO RAVVIVANTE: a protective that, thanks to its active ingredients, revives the color and increases the water repellency of the external impregnated or painted wood. Thanks to its strong action, OLIO RAVVIVANTE is able to remove the opalescence of the paint, restoring tone and brightness to the fixtures.
3. Finishing and maintenance: once the restoration operation has been completed, to protect and deeply nourish the wood, we advise you to apply with a cloth a coat of BARRIER: a protective wax with anti-degradation and anti-dirt emulsion based on water, excellent for the finishing and conservation of external wood. This wax is also very suitable for storing the garden furniture in painted wood, so at the beginning and at the end of the season, to better protect our wood from ultraviolet rays we suggest you to pass a coat of BARRIER.
Your wood and your windows, from one season to the next one, will always be more brilliant and radiant!