The best work of the month
16 January 2019
How to recover an antique marble floor?
Restore the natural splendor of a precious marble floor
As a most beautiful work of the month of December, a work of marble restoration was chosen. This work illustrates the interesting restoration of a flooring, consisting of two precious ancient marbles: a brecciated and a pink korean marbles.
Marble is a very precious material, used since ancient times in architecture thanks to its particular and unique characteristics that give the rooms a brightness and elegance that are difficult to replicate with other types of material. Of course, a material such as marble may appear delicate and difficult to maintain, but if you just bought a house with antique marble floors damaged by the signs of aging and you thought of replacing them, before thinking of an alternative solution, we suggest you read this article to find out how a precious marble floor was recovered by the professionals of the Incredibile Davide company and by Davide Cao.
Once restored to its original splendor, the maintenance and cleaning of the marble floor will not be complicated if you use the right products and methods recommended by experts to keep it better over time. Marble is one of the most appreciated natural stone and always used, not only for its unique and refined aesthetic properties, but also for its technical characteristics, first of all the durability over time. In fact, in addition to being famous for their ability to resist bending, impact and abrasion, natural stone floors are regenerable surfaces. Are you wondering what it means to be regenerated? We'll explain it right away: to understand the concept well, think of marble as a "malleable material", a stone that, through precise recovery and repair treatments such as grinding, polishing and smoothing, is able to reacquire the splendor, beauty and vitality of the past. Owning a marble floor in your home means, therefore, having elegance and value, but also a good characterized by eternal quality. The techniques and processes to recover marble floors are many and, in recent years, thanks to technological innovation, are increasingly advanced, just like the one used in the intervention we are about to tell you. Let's find out all the details.
Recovery and restoration of marble flooring
The restoration work was carried out on an old pavement of a private house, formed by two very precious ancient marbles: a brecciated marble and a Korean marble.
Brecciated marble: it is an Italian stone stone characterized by a warm and pleasant beige color and more or less decisive veins of red or orange color, which change according to the characteristics of the blocks and the quarries deriving from the marble. Brecciated marble is very suitable for furnishing and covering indoor environments, stairs, floors and elegant coverings.
Korean marble: very precious material, famous for its beautiful appearance, characterized by a very particular color, a set of thousand shades ranging from shades of cream to those of pink, but also from its resistance to wear. Very suitable for outdoor installations.
Stages of the intervention
The recovery of the marble floor, requested by the works director Arch. Sara Natalini, was very demanding because the flooring was very worn and damaged by the effects of time. Considering the initial conditions of the surface, the professionals who performed the work, choose to experiment an alternative system to traditional grinding. At first, the flooring was secured with resin fillers to re-qualify it from a structural point of view: to do this it was necessary to intervene with the aid of a sanding machine.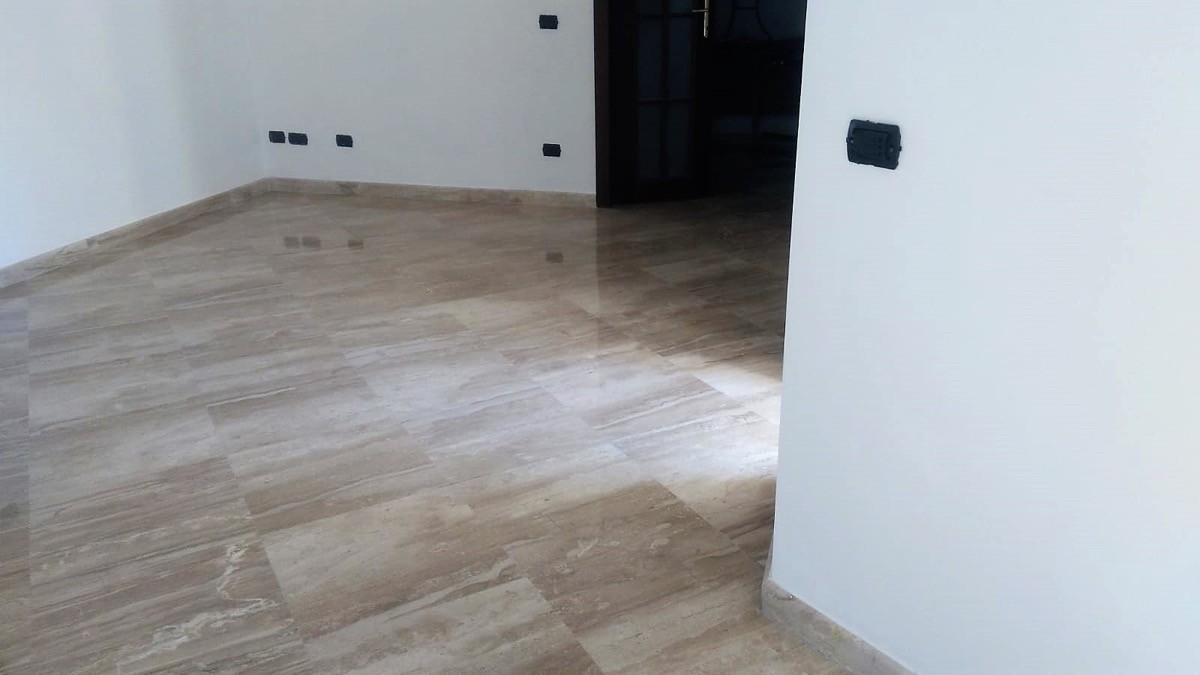 As a second step, a semi-gloss finish with a warm effect was applied to the entire surface to meet the customer's needs and requirements. Specifically, after having found the balance of porosity, in the action of the traditional abrasive, the stone has been worked with professional discs that, by making a micro-glaze, manage to make the semi-polished marble and to improve its chromium plating. At the end a concrete treatment was carried out on the entire marble surface.In this third phase, the expert craftsmen used specific products to protect the marble. The surface has been treated with GUARD , an oil and water-repellent based on water, a stain-resistant protective for stones, marbles, granites, compact grits; a low-absorbent product that creates an invisible protection.
Once dried, in order to prevent and protect the flooring from wear and dirt, a professional anti-wear finish was applied for granite, marble and grits: LUXOR, which has released a pleasant warm bright tone in the stone. At the end of the marble treatment, the result was surprising. The recovery and renewal of the material has made the flooring shine with new light and beauty.   COMPANY WHO MADE WORKS: Incredibile Davide Mobile 3384988846 ncr.d@libero.it   and   Davide Cao Mobile 3472606592 davidecao2008@libero.it