We introduce ourselves: the story of Marbec
In quest'articolo vi parliamo della nostra azienda
August a particular month. All leave for vacation and the town are empty. Even businesses are closing, and few are those who engage in cleaning the House. Indeed, when under the umbrella, to everything you do think domestic duties unless the. Isn't it That' because in this article we will avoid the professional and home cleaning recommendations. We thought of something will tell you pi light: our company,our history, the place where we work, the values we believe in. A company made up of people and as a person. And, when we meet people, turn up. When you get to the end you will appear to know each other. We bet?
A team of professionals at housekeeping service
The story of Marbec begins when a bunch of guys from different experiences in the cleaning sector and treatment of building materials absorbents, decides to go it alone. Today, the team of professionals specialized in Marbec composed of applied chemistry to housekeeping. We come from Tuscany, a region very rich in historical, artistic, naturalistic point of view. For this we like traditional materials: we specialize in cleaning and treatment of
Cotto
natural stone
marble and granite
wood and parquet
Our cleaning products are aimed at both professionals and for those doing house cleaning. We have several product lines including:
waxy finishes
resino waxy no-movies
impregnating product
firming antispolvero
water repellent and stain resistant protective
All these products have been manufactured using these guidelines:
A secure technology. Our cleaning products are safe for people who use them.
A natural technology. Choose Add respectful of nature and the environment.
An effective technology. Our products eliminate dirt and adhere to surfaces.
Our headquarters, where does the quality
But where Marbec cleaning products are made? We are located a short distance from Pistoia, in the beautiful Tuscan countryside. Our big shed 4000 square meters: 2000 2000 indoors and outdoors. There's room for everything but when we founded the company were forced in just 800 square meters ever-increasing demands have caused us to look a house bigger that would make bill But as we enter the heart of the company and see what are the most important parts.
The laboratory, where Marbec products come to life
This is the laboratory. here that our chemists develop the formulas of the products. We study the materials, we experience new formulations, we try new components. Before going into production, each product tested at length, to see how it reacts in contact with materials and how to remove dirt. Although the Research a critical part in our work, we don't like to isolate ourselves in the laboratory we must hear opinion of professionals who daily work with materials and surfaces. That's why we consult the architects, the construction workers, the cleaning companies , which with the surfaces and materials work daily. From each take hints and tips. Each opinion valuable because it allows us to continuously improve our products, making them adhere to the needs of those who use them daily.
The production, the crucial moment
After having developed a formula, begins production. this a delicate phase, in which we can't afford mistakes for this we obtained the quality certification UNI EN ISO 9001:2015, which guarantees the quality standards of business processes. We use only stainless steel machinery, such as mixers and blenders, designed for industrial production. These guarantee that the product is prepared under the best conditions, without lumps or other defects that affect the use.
The warehouse, where the products are preparing for departure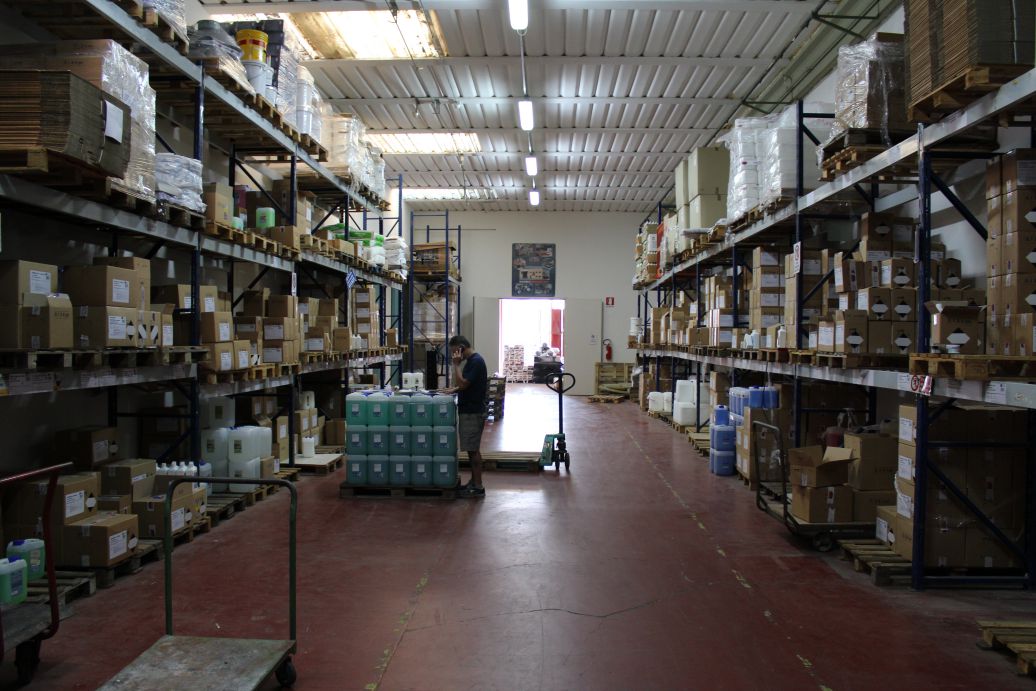 This our warehouse. Here we keep the products finished goods waiting to be shipped. Even the 400 follows the strict rules of the UNI EN ISO 9001:2015. Preserve products in the best possible condition critical. The warehouse products depart throughout Italy and abroad. Over the years we have established business relations with foreign operators who have known and appreciated our professional products for cleaning. Pi reports consistent with Malta, Norway, Germany, France, Portugal and Georgia.
Marbec assistance will never leave you alone
But what happens once the goods have left the warehouse? We continue to follow them: our Administration Office staff always ready to answer your questions. Whether you are a retailer, a cleaner or you need a tip on How to remove stains from brick or stone, contact us: we will be happy to help you.
The ongoing assistance has always been one of our strengths. with this in mind we have created a Youtube Channel with lots of video tutorials on home and professional cleanings. There you will find all the ways to Remove stains from natural stone or brick with our products for cleaning. Also there the Marbec blog, where we give cleaning tips for professionals and those who simply takes care of home maintenance. Our agents are trained to be prepared on the latest products for cleaning and treatment systems from the worlds MARBEC.
Behind the products, people
But who's behind the products you use every day? here we are at full strength: why not join us?