Guides all purchase, The council of expert
27 October 2020
How to polish cement tiles?
Preserving, restoring and enhancing retro floors is a wonder! Today let's find out how to polish cement tiles.
When restoring a house, it very often happens to find real historical heritages within it.
Unique works of art that are worth restoring, such as cement tile floors or coatings.
Yes, cement tile floors are a real cultural heritage.
Of course, when it comes to ancient cement tiles, to enhance their appearance and bring their timeless charm to light, we must intervene with specific treatments.
So today, let's find out together how to clean and how to polish cement tiles.
What are cement tiles?
Cement tiles are small tiles in cement paste, popular in the late nineteenth and early twentieth centuries,
commonly known as floor tiles or cement tiles.
Characterized by floral and geometric motifs, they have made the history of floors and coatings.
The ancient charm, the timeless beauty, the harmonious effect of these tiles are back today more in vogue than ever and are an excellent choice of modern and multifaceted furniture.
Preserving, restoring and enhancing this type of coatings that history has left us, in order to restore architectural dignity to the buildings of the past and revive it in another fascinating form, will repay us with infinite satisfaction.
We are sure that by choosing the right professionals and products, the results of this recovery will be absolutely amazing!
How to polish cement tiles: phases
Cement tiles require special care.
If you want to polish and clean a cement tile floor, before any treatment,
it is essential to read up on the type of material they are made of in advance.
If the cement tiles are made of "hard cement" (the flooring is shiny and compact), in order to polish them we can,
as a first step, perform a degreasing wash of the floor.
For a de-waxing and deep treatment we recommend using SGRISER which will be applied with a single brush and RED DISC.
SGRISER: an alkaline detergent / solvent for a strong degreasing de-waxing washing on all stone materials such as cotto, stone, glazed ceramic, klinker, stoneware, cement, grit, etc.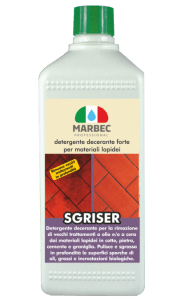 In the case of heavily worn out material, in order to achieve an optimal result it is better to prefer the PRELUX DISC
to apply with a single brush.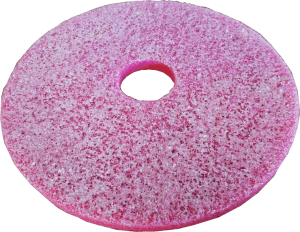 PRELUX is a multigree diamond disc, ideal for grinding and standardizing the degree of dressing.
After washing, we rinse everything with clean water.
Once dried, the surface will be ready for the polishing phase.
In order to perfectly polish , we use KW STAR a powder crystallizer for marble and
grits to be worked with WHITE DISC with a single brush.
Let us remember that both of the latter two treatments are carried out using water as a lubricant.
Once the material has been polished, to protect the surface and give an anti-stain and oil-repellent treatment,
we recommend using GUARD, a water-based protective impregnating agent that forms a consistent, breathable oil repellent chemical barrier on compact and poorly absorbent stone materials.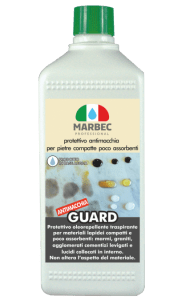 After the treatment, the cement tile flooring will not even look the same anymore,
you will be surprised by its new look and its new bright colors.
Cement tile maintenance: mistakes to avoid
If above we have seen how to polish cement tiles,
let's remember that proper maintenance is essential to keep their beauty for a long time.
So on a daily basis, we remove dust and dirt from the floor with a broom or vacuum cleaner.
Then we wash the surface with UNIPUL.
Concentrated universal sanitizing detergent.
Most importantly, we never use acidic and aggressive products on cement tiles,
the latter are able to corrode and ruin them irreparably.