Guides all purchase, The council of expert
17 March 2020
4 porcelain floor tiles: how to clean and maintain them over time
The cleaning of porcelain floor tiles is very simple but let's remember that specific treatments can maintain their beauty over time.
How many things do you need to think about when designing or renovating your home?
Here, the answer: an infinity. And this answer is just the right one.
Building the house is the dream of lots of people but not everyone knows that this beautiful goal requires a lot of "effort" and preparation.
The division of the space, the choice of materials, the components, deciding whether to lay porcelain tiles or parquet floors,
they are choices not to be taken superficially, they all deserve attention because they will affect the quality of our future. Don't you believe it?
Then try to think of that dear friend who said to you not long time ago: "the floor of my kitchen is beautiful but it just gets stained very easy!".
That's why today we really want to talk about the choice of materials and talk about porcelain floor tiles.
Choosing a floor, knowing its characteristics, how to clean it and keep it always beauty, becomes fundamental and indispensable to facilitate everyday life and the future.
Choose porcelain floor tiles
When designing a house, choosing the material is one of the most delicate tasks; the world of floors is boundless and complex.
Sometimes a material is chosen only for its beauty without taking into account its structural characteristics.
This is a mistake to avoid!
For the choice of the coverings, in fact, it is always necessary to analyze different aspects: personal taste, the style of the rooms,
the characteristics, functionality and practicality of the materials.
Finding a material that satisfies all these needs is not a simple challenge but it is not impossible.
In fact, there is an extremely versatile material on the market that crosses all styles and represents a perfect choice for all types of construction: porcelain tiles.
Porcelain floor tiles: features
Porcelain tiles is a compact and hard, colored, non-porous, very resistant paste ceramic.
Its peculiarity lies in the production method: a mixture of clays, quartz and other minerals, baked in the oven at around 1150-1250 ° C.
A process that gives it a particular resistance and a very low absorbency.
Porcelain floor tiles ensure a unique harmony of environments thanks to the aesthetic characteristics that reproduce:
marble effect, wood effect, concrete effect and stone effect.
Let's discover the characteristics of these fantastic effects and the secrets to perform a perfect cleaning of the porcelain tiles.
Porcelain tiles with concrete effect
Porcelain tiles with concrete effect is represented by tiles which tend to imitate concrete starting from monochromatic shades
until you get to products rich in nuances, characterized by shades, irregularities, almost to emulate a worn floor, ruined by time and passage.
Concrete-effect porcelain tiles have a modern, contemporary, metropolitan soul.
They "dress" floors and walls of the house from the living room to the kitchen, from the bedroom to the bathroom, but also from shops, offices, public buildings. In the structured and very thick versions porcelain tiles, that imitates concrete, can also be laid outdoors.
Thanks to these characteristics, cement-effect porcelain tiles gives the rooms personality not only according to the color of the tiles, but also on the basis that they are uniform or nuanced, homogeneous or shaded, smooth or rough.
Porcelain tiles with wood effect
For its great ease of combination with all types of structures and furnishings,
wood-effect porcelain tiles is certainly the leader in the sector.
It represents a perfect choice for modern homes and for those who love an innovative style
but at the same time welcoming and traditional.
Aesthetically it looks just like a parquet but, of course, we talk about features,
different techniques and a distinctly different consistency.
Precisely for these reasons, wood-effect porcelain floor tiles are therefore an excellent alternative to wooden floors.
Unlike wood, in fact, it stands out for its nature, resistance and economy.
Porcelain tiles with marble effect
When you decide to use marble inside your homes, of course,
the sensations emanating from it are less warm than those ensured by the parquet,
on the other hand, the brilliance and luster of marble are able to confer a particular elegance.
The porcelain tiles with marble effect, also in this case, will not leave its fans disappointed,
since this effect is able to confer the same characteristics of the natural material.
Porcelain tiles with stone effect
A material that faithfully reproduces the aesthetic, natural characteristics,
the chromatic nuances and every single detail of the stone.
Porcelain tiles with stone effect is an extremely natural, neutral product that allows you to create rooms with very different styles,
but all enhanced by the warmth of natural stone.
4 porcelain floor tiles: cleaning and maintenance
Whether the choice falls on a wood-effect porcelain floor tiles compared to a stone-effect porcelain floor tiles, those who choose porcelain floor tiles,
chooses a resistant and hygienic product.
The advantages of porcelain floor tiles are many; in fact, these surfaces are resistant to impact, stains,
abrasion, chemicals.
After illustrating the characteristics and advantages of these surfaces, we have to find out how to clean porcelain floor tiles.
Cleaning of porcelain floor tiles is generally very simple and immediate
compared to that needed for materials such as parquet or marble.
But remember that if we want to maintain its original characteristics and beauty over time,
we must use specific products and carry out specific extraordinary treatments.
Two excellent products for ordinary cleaning are:
GRES LINDO: a porcelain floor tiles cleaner, concentrated with very low content
of surfactants based on inorganic salts.
It removes dirt and graying, even the most stubborn, bringing the porcelain floor tiles back to their original color.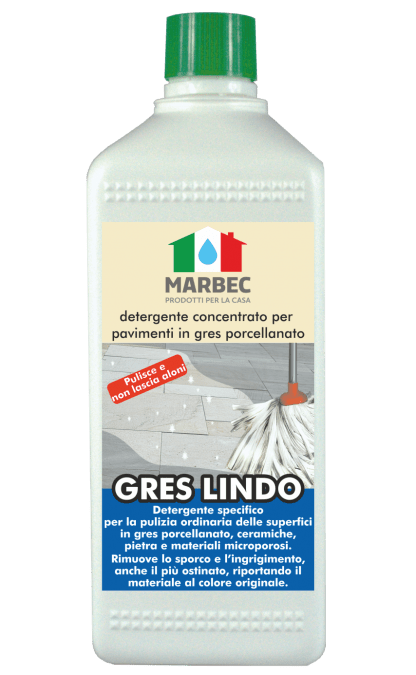 4 porcelain floor tiles: maintenance
If it is true that porcelain floor tiles do not stain so easily,
it is equally true that inadequate products and substances, generic descalers and multisurface,
in contact with this surface, they create indelible stains that are noticeable against the light.
Fortunately, to solve this problem, Marbec laboratory has developed a range of professional products
for the protection and maintenance of this type of material. Let's see the main treatments.
For extraordinary cleaning, we recommend:
Every six months, to protect porcelain tiles and joints from daily dirt, we recommend treating the entire surface with ANTISPORCO, a protection for porcelain floor tiles.
This product is a water-based stain remover, specific for porcelain floor tiles and walls.
It drastically reduces the absorption of dirt, facilitating and speeding up ordinary cleaning.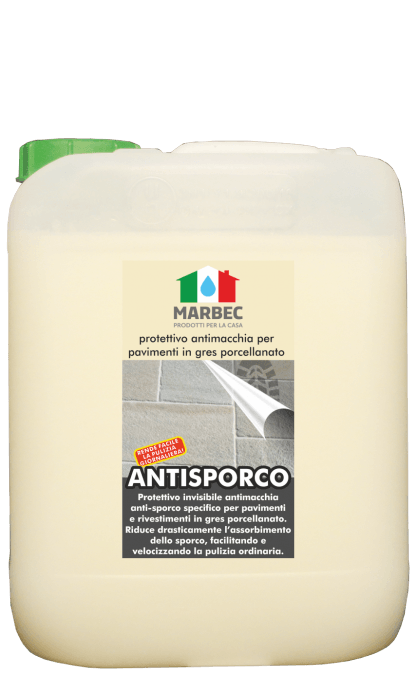 Remember that if applied before the grouting of the porcelain floor tiles, it prevents that the grout settles in the microporosities of the material, significantly facilitating post-yard cleaning.