Do it yourselfer, The council of expert
29 April 2020
Restoration of wooden shutters: fast and practical, without sanding
It is the ideal time to devote yourself to the restoration of wooden shutters. Find out how to renew your fixtures in 3 simple and quick steps, without sanding.
In this particular period, if there is one thing that we have strengthened, it is the pleasant desire to dedicate our free time
to small or large extraordinary domestic chores.
The arrival of spring has further helped our good intentions. So, here we are, to dedicate ourselves to another great classic
of "homemade" works: the restoration of wooden shutters.
The mild temperatures and the long time available will therefore be our most faithful companions for this particularly useful type of restoration; if it is true that the security of our home is very important, it is equally essential to understand that all those small or large structures that "protect" us from the outside must also be protected in their own way.
Why is it necessary to carry out the restoration of wooden shutters?
The wooden shutters or window frames represent one of the components of our houses most exposed to atmospheric and
external environmental agents.
Because of these factors, if we don't take care of them properly, the shutters inevitably tend to be damaged.
Specifically, in fact, the sun's rays and bad weather damage the protective paint of our fixtures by putting
our wood in danger.
If you do not act in time with an adequate shutter restoration, in fact, in the "uncovered" wood, insidious cracks will form.
This is why, to avoid losing their original beauty and important usefulness, we must, at the first signs of deterioration, intervene with a good restoration work.
To do this, it does not matter to be professional craftsmen: just use the help of valid professional products,
useful for a deep maintenance of wooden window frames.
But let's go in order and see where and how to start to make a perfect restoration of wooden shutters and
specifically what products we need to complete it.
Restoration of wooden shutters in 3 simple and quick steps
Usually, when we decide to restore shutters or wooden window frames, it means that we noticed
the first signs of deterioration, that is mainly, when the painting has degraded in color and is opalescent.
To revive our shutters, doors or fixtures therefore, there is an easy and fast technique that will give color and protection to our wood
without the need to sand; let's find out how to do it right away.
Preparation of wooden shutters
First, we need to degrease the surface of our shutters or wooden doors well,
with DETERCLEAN and using the precious help of the WHITE BUFFER.
This will make the surface free of all impurities created over time and allow us to move easily to the next phase.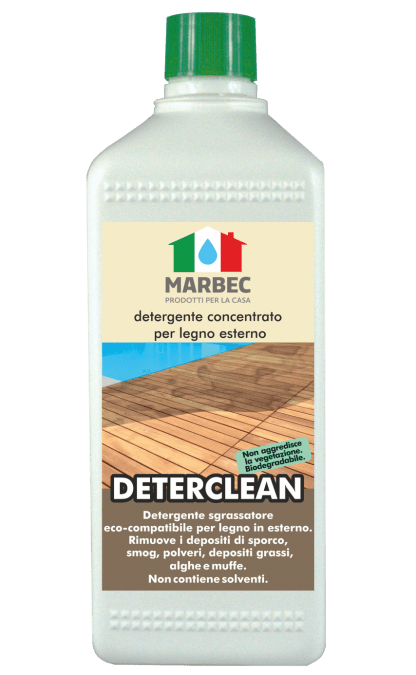 Renewal of wooden shutters without sanding
At this point, with a wet cloth it will be easy and quick to pass the OLIO RAVVIVANTE on the surface,
in order to remove the old paint and the grayish "fog" effect.
This operation will also act as a protective screen for the primer, significantly slowing down the inevitable future degradation and, above all, will give life and color to the painted surface of our fixtures again.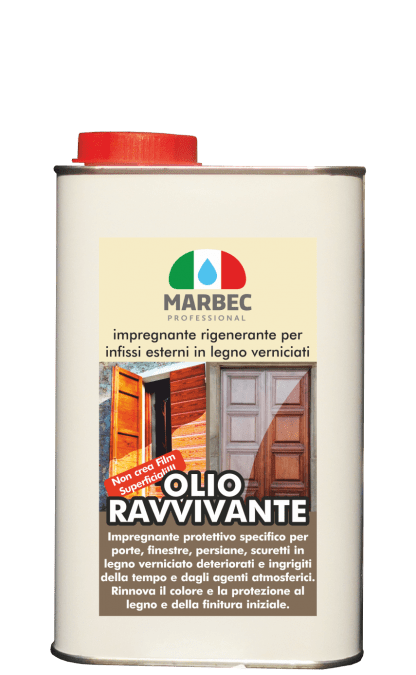 Wooden shutter protection
Once the entire surface has dried (6-7h), the application of BARRIER is absolutely recommended.
It is an easy to use water-based finisher, which with its anti-degradation and water-repellent function,
will give the wood a particular protection from UV rays and atmospheric agents.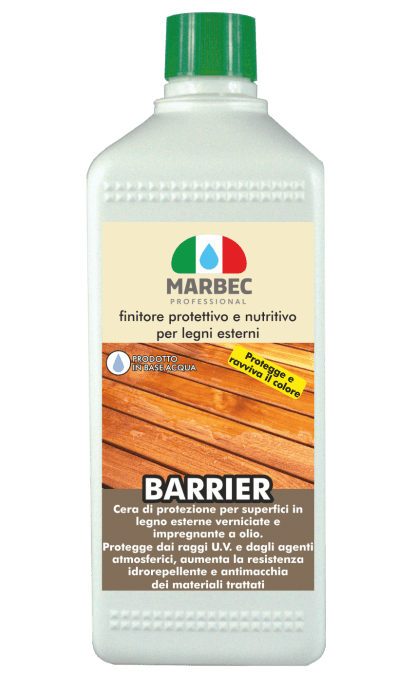 Only with this simple action our fixtures will return to their original color and splendor and, in addition, they will enjoy a lasting and effective protection that will protect them from all those agents that had caused their deterioration.
In fact, this treatment will prolong the life of the frame over the years and, in the future, it will be sufficient to clean the surface with DETERCLEAN and
reapply at least once a year BARRIER.
In short, with a few simple steps, even without the need to sand and with the help of suitable professional products, we will have accomplished another great little housework that doesn't hurt these days: a restoration of wooden shutters that will increase the pleasant aesthetic impact of our homes.