Do it yourselfer
13 May 2021
How to remove stains from the ceramic floor?
Here's how to remove the toughest stains with our products
Ceramic is a beautiful and very resistant material: find out how to clean and maintain it over time!
Do you look at the stains on your ceramic floor and are you wondering how to remove them?
If you have this problem to solve, know in the meantime that the ceramics do not stain but are substances that are deposited on
the surface, creating opacity.
Here are 3 products that will help you to make your ceramic floor shine again.
Ceramic floors: a quality choice
Ceramic floors are highly appreciated for a number of qualities. Strength, versatility, ease of installation and simple handling
are the main characteristics of this low cost material. Ceramic tiles are therefore easy to clean and resistant over time, but to
remove the opacity from the floor it is important to use the right tools.
Cleaning the ceramic floor: 3 perfect products
For absorbent ceramics: Micronet
When it deals with absorbent ceramics with black trampling dirt, Micronet is the perfect product.
Pour the product on the surface (pure or diluted, 1 part of Micronet in 1 part of water) and then wait a few minutes before
rubbing with buffers or soft discs for single brush machines.
Then remove the residue with a vacuum cleaner or dry cloth and finally rinse the surface with an acid solution, to remove the
residues (eg 2-5% of Delicacid).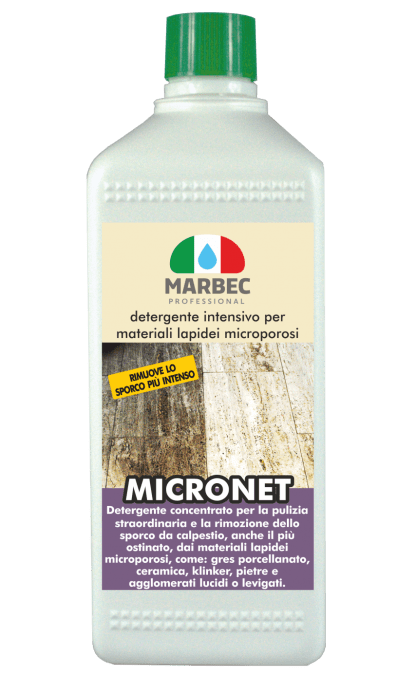 To decalcify: Delicacid
Delicacid a descaling detergent, delicate for all stone materials resistant to acid substances such as ceramic materials and for internal calcareous dirt (rain or domestic water).
Spread the product on the surface and let it act for a few minutes. Then rub the surface with buffers or discs in plastic fibers or brushes in nylon, tynex.
If necessary, repeat the wash, always rinsing with plenty of water.
To keep the floor clean and descaled: Gres Brill
To keep the ceramic floor clean and descaled, there is nothing better than Gres Brill.
Dilute 20-50 cc (about half a cup of coffee) in 5 liters of water, applying it like a normal detergent with a microfiber cloth. In this
dilution it is also possible to use washer-dryer.
In the event that traces of detergent remain, the advice is to increase the dilution.