Do it yourselfer
10 May 2018
External travertine: how to clean and protect it
How to clean and protect external surfaces in travertine
Travertine is one of the most beautiful and characteristic marble of Italian tradition, particularly suitable for interior coatings, fit very well the exteriors, especially in some contexts. How to clean this precious material in case it lost its initial beauty looking opaque and stained? How to do after an external exposure that deteriorated it deeply?
In this article we see all the passages done from the experts of G.A.M. Servizi based in Lastra a Signa and all the Marbec product that they used.
This is how our travertine surface looked initially: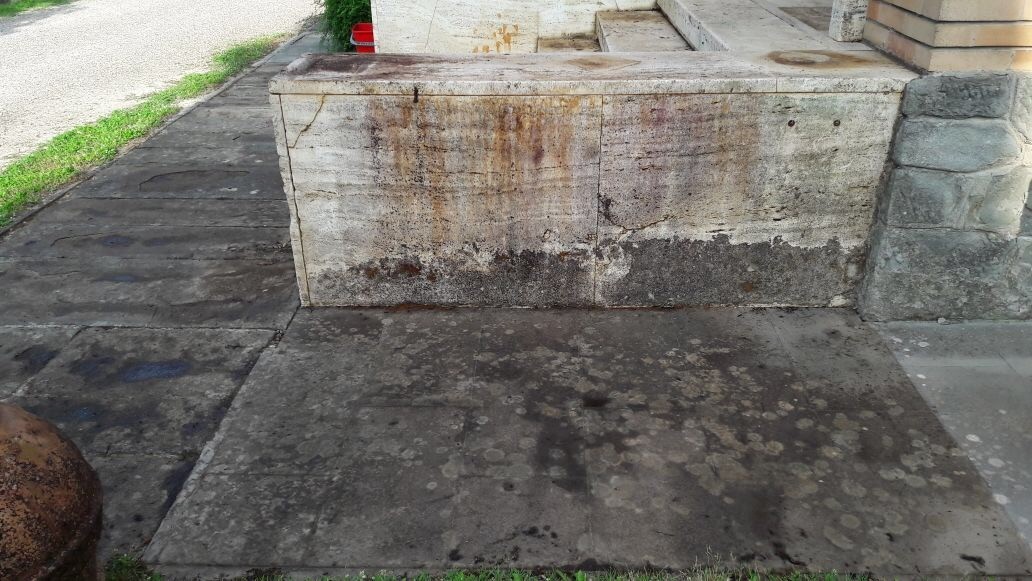 The work that we were called to do today, in fact consisted of the restoration of an external stairway in travertine, particularly ruined over time by the presence of mosses and lichens and the exposition to a continuous flux of smog. The latter, mosses and lichens, are for sure one of the main enemies of external surfaces including travertine. Cold and humid environment, high rainfall, create over the time the appearance of unpleasant moulds and algas that depositing on the surfaces, endanger the original beauty of the material, stain it permanently.
How to clean ruined travertine?
Let's go find out the steps of the cleaning operations made on our external stair in travertine. The cleaning procedure of travertine started with the drafting of two coat of SGRISER, a product able to clean and scrape also the most stubborn dirt. The detergent was left act on the surface until the following day. The day after, after noticed the first improvements, we continue with a specific washing still using SGRISER. Then another wash appeared appropriate and useful on all the travertine surface thanks to the limestone removing function of DELICACID, a detergent for the descaling cleaning on stone able to remove cinder grouts, efflorescences and chalk deposits for stone, agglomerations and cinder materials in general. The wash ended with a final rinse performed with UNIPUL.
How appear now the travertine surface?
All these types of washing and rinsing were done handmade with the precise and meticulous use of pressure washer and brown buffer. Once let dried properly, the flooring was exposed to a protection treatment: two coats of ACTIV 3 were applied, specific protector hydro and oil repellent for stone materials.
To prevent the return of the stains…
As prevention, to reduce drastically the growth of algas on the surfaces, finished all the procedure, we finished the entire operation of restoration with the application of two coat of PAV 05, an antifouling protector for stone materials.
EXECUTOR FIRM OF THE WORKS:
G.A.M. SERVIZI SRL 
Via Ponte Nuovo, 3
50055 Lastra a Signa
Tel. 055-88022252
www.gamservizisrl.it