Do it yourselfer, The council of expert
7 January 2020
How to clean a very dirty cotto floor?
Find out how, without the help of professionals and the use of specific machinery, you can perfectly clean your cotto floor.
Today we want to present you a wonderful intervention that will show us
how to clean a very dirty cotto floor.
This work makes us very happy and proud because it was carried out perfectly by one of our kind customers,
Mrs. Laura.
Laura, without taking advantage of the intervention of professionals and specific machinery, performed a perfect cotto floor treatment in DIY.
With the help of her husband and our professional products, in fact, Laura brought to light
the beauty and the splendor of its wonderful cotto floor.
This shows us that with a little effort and using the right products, the DIY gives us excellent results.
Sometimes with small interventions it is possible to recover surfaces, renovate floors, give new light to rooms, in short literally transform the house.
But now let's focus on the intervention phases to understand well how to clean a very dirty cotto floor.
Cotto floor treatment: phases
The floor of our costumer Laura is a very elegant and precious classic cotto floor.
Before the intervention, however, the entire surface had black spots, typical signs caused by wear over time.
To neutralize these annoying stains that ruin the surface, it is advisable to initially eliminate all the old treatments performed on cotto floors.
So as a first step, Ms. Laura washed with such dedication, moving forward a few meters at a time,
the entire surface with SGRISER, a wax remover for the removal of old oil and / or wax treatments of stone materials in cotto, stone, cement and grit.
We would like to emphasize once again that all the treatment of the cotto floor was done by hand
with the help of BROWN BUFFERS which, thanks to their ideal composition for cleaning wax on cotto, have replaced the single brush.
SGRISER was applied pure on the flooring and left to act for 5 minutes.
Once the necessary time had passed, the floor was rubbed with the brown pad, until the surface was completely wet. At this point, the old wax and dirt residues were removed with a sponge.
As a second phase, once completely dried, a descaling and neutralizing treatment was carried out on the surface.
To do this, VIACEM was used, a strong acid descaling detergent for cotto and terracotta.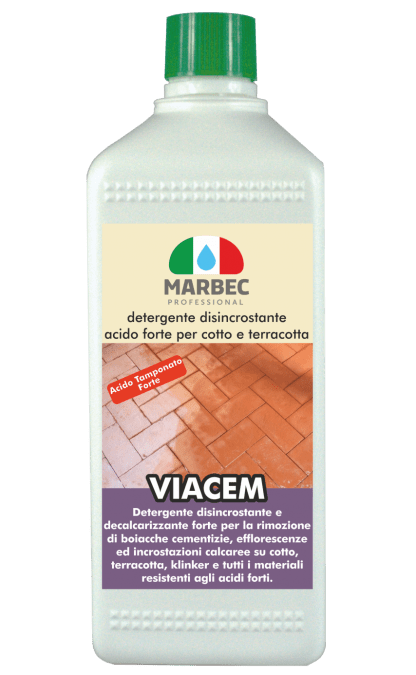 Diluted 50% in water and with the help of the BROWN BUFFER, Mrs. Laura passed the product in every corner of the floor, rubbing it until the material has stopped "frying".
Once the operation was finished, it was necessary to remove the dirty water and rinse the entire surface with clean water.
Third phase: to protect the cotto, a specific cotto treatment was carried out.
Once the floor was completely clean and dry, a coat of EXCEL PLUS was passed, a product for stain protection for absorbent stone materials placed inside and outside.
As a final step, two coats of IDROFIN were applied, a low-film anti-dirt and anti-wear finisher for absorbent stone materials placed inside.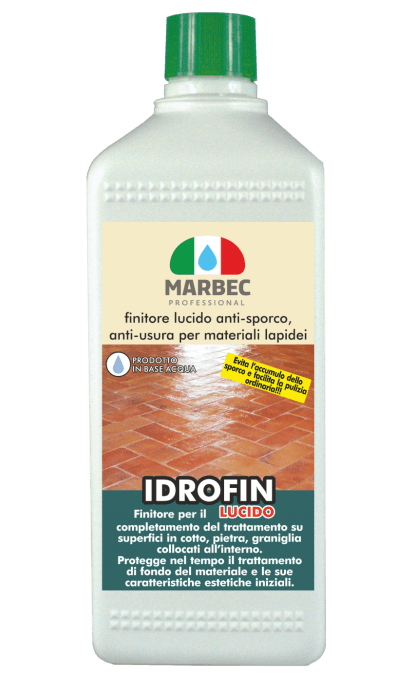 The two products were carefully applied with a microfibre cloth, making circular movements and uniformly wetting the surface.
At this point the wonderful result can be easily seen; we take this opportunity to congratulate Mrs Laura and her husband for this splendid result.
After the intervention, we think they deserved the title of "cotto professionals" and from today we believe they can dispense advice on how to clean a very dirty cotto floor.