Do it yourselfer, The council of expert
12 May 2020
Clean outdoor cotto easily, it's possible
Did horrible and annoying stains appear on your cotto terrace? Discover now useful tips and effective remedies to clean cotto quickly and easily.
After explaining how to clean a very dirty indoor cotto floor,
today we want to present you a real guide, a set of useful tips and effective precautions for cleaning outdoor cotto.
The cotto floors outside, as we know, need continuous maintenance.
In fact, cotto, although very resistant and insulating, is a material that tends to be easily "ruined".
Its original beauty that gives the home and the environment a warm and welcoming atmosphere,
it is continuously threatened and needs good maintenance.
Who has an outdoor cotto floor knows what we are referring to, right ?!
But let's start in order and discover the main pitfalls that always attack
the pleasantness of our outdoor cotto floors.
Why does the outdoor cotto get dirty?
Cotto is a porous material, therefore, stains appearance is commonplace.
So, it becomes fundamental to discover why and
against what we have to "fight" to eliminate those annoying halos that damage our outdoor cotto.
The main spots that generally occur on terraces, verandas, paths, cotto pavements,
they are due to humidity, mold and limestone.
The outdoor cotto, being very exposed to atmospheric agents, is very easy to become dirty or stained
which loses its original splendor.
In fact, on outdoor surfaces it is very easy to create mold patina, unsightly algae and difficult to remove.
Generally, to remove them effectively and quickly, it is necessary to use products to clean outdoor cotto;
a specific detergent against algae, moss and fungi, such as ALGANET.
Natural methods for cleaning outdoor cotto
At this point we just have to understand, depending on the type of stain, how to clean the outdoor cotto.
As mentioned above, the spots can be of different nature and the methods to try to eliminate them are various.
Mold stains
If the damp and mold stains are not many or are small in size,
we can try to eliminate them with the classic advice of the grandmother.
Let's try to clean the outdoor cotto with a mixture consisting of water, a third of baking soda,
a third of neutral soap, a spoonful of oil and a spoonful of beeswax.
Before washing the floor, we sweep and try to remove the most stubborn dirt,
then we wash the cotto with our "do it yourself product" and then rinse with plenty of water.
Limestone stains
If the floor is stained with limestone, we can try to use a mixture made of oil and bicarbonate.
We spread the mixture on the stains with a sponge and rub it vigorously.
We leave the mixture to act for about 30 minutes and then rinse with water and vinegar.
Moisture stains
If the stains on the cotto are whitish, the saltpeter, caused by humidity, could be responsible.
In this case we brush our floor with a wire brush and proceed with a normal cleaning.
If grandma's methods do not fully convince you and if you prefer to use only one product to eliminate effectively and
quickly any type of biological incrustation, Marbec has the ideal solution, as always!
Products for cleaning outdoor cotto: ideal solutions for every problem
As mentioned above, to remove moss, limestone, resistant molds and slow their reappearance
we can carry out a specific cotto treatment.
Of course, to definitively solve a problem, we must precisely identify the cause and type of stain we are going to treat.
Stains and deposits of biological origin
There are several products for cleaning outdoor cotto, but ALGANET is a specific stain remover for removing even large deposits of biological origin from outdoor stone materials.
Practical and quick, it removes blackening from microorganisms (algae, mosses and lichens), residues of leaves and flowers, animal excrements, urine, etc.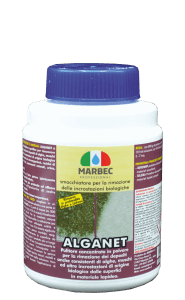 Cleaning cotto with ALGANET is really simple, just dissolve the powder in a clean bucket of water.
Subsequently with the obtained mixture, it is necessary to wet the surface to be treated abundantly and let the product act.
To eliminate all biological residues in depth, we recommend rubbing the product with BROWN BUFFER or with the help of a pressure washer. This energetic and mechanical action will contribute to eliminate definitively those dry roots from the surface previously neutralized by the product.
After washing, the surface must be rinsed with plenty of water to remove degraded dirt.
Limestone, cement and saltpetre stains
When on our outdoor cotto instead we notice stains due to limestone, cement or saltpetre, to eliminate them effectively, without too much effort, we can use VIACEM plus BROWN BUFFER.
VIACEM: a strong buffered acid detergent for cotto and terracotta, brick, clinker and for all materials resistant to strong acids.
After the treatment, let's not forget to rinse well with clean water.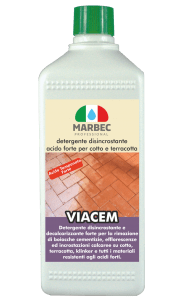 N.B. In the event that the surface has both types of stains, we recommend that you never carry out the two treatments together but in two different moments, respecting the indications for use.
How to prevent stains?
Once we find out how to clean outdoor cotto, we need to think about how to protect it.
To prevent and counteract the appearance of insidious stains, we recommend TIM, a water-based impregnating protective agent, which forms a consistent breathable hydro-oil-repellent chemical barrier on absorbent stone materials: cotto, absorbent natural stone, cement, mineral plaster.
TIM ideal for keeping away the reappearance of stains and halos, prevents and counteracts the rise of humidity, drastically reduces the absorption of water in cotto, without altering the appearance of the surface.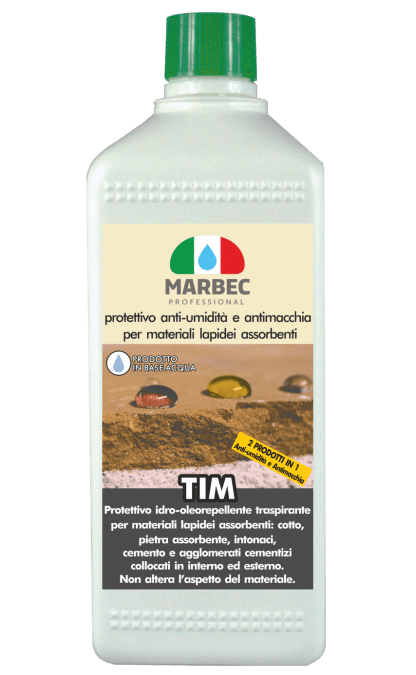 After each treatment, our outdoor cotto tiles will be ready to welcome the summer!