Do it yourselfer, The council of expert
20 May 2020
After so many good recipes, how to clean the oven at home?
If you are wondering how to clean your home oven, don't waste time and find useful tips to make it shine again!
If we have to proclaim the ally who has kept us more company during this time spent at home, there is no doubt,
this is definitely the favorite companion of all our recipes: the oven.
These two months have tested not only our weight, but also the kitchen of our homes.
In fact, a pastime that brought everyone together, we cannot deny it, it was cooking, experimenting with new recipes,
mess around between stove and oven.
Without a doubt, our favorite appliance will need deep cleaning and the time has come
to find out which are the most common incrustations that have threatened it and how to clean the oven thoroughly.
Where to start to clean the oven?
To clean the oven you can use natural products or specific products
in order to perfectly clean and disinfect every component.
Before understanding how to clean the oven and decide which method or which product is right for us,
let's look at our oven and evaluate carefully which type of incrustation or stain it is subject to.
If the incrustations are slight we can try to degrease it with natural products.
Otherwise there will be a need for more intense and specific products.
How to clean lightly caked oven?
If the oven is not very dirty, we can try using mixtures of natural products such as:
water, baking soda, lemon and vinegar, the latter are perfect for cleaning all the walls and dishes of our oven with a cloth, effectively helping to eliminate bad odors, cleaning the oven more or less permanently.
Lemon: cut a lemon in half and use it as a sponge.
We rub the lemon on all the walls of our oven, its acidity will help us dissolve the dirt.
Once finished, rinse everything with water and vinegar.
Baking soda: a solution for cleaning the oven is that made up of baking soda, salt and water.
Once the pasta is obtained, we must spread it on all the internal walls of the oven, let it act for a few hours and
rinse everything with water. In this way you will have a clean and sanitized oven in a totally safe and natural way.
How to clean heavily encrusted oven?
Instead, if we really indulged and cooked every dish in the oven, from meat to fish,
from pizza to cakes, using it really frequently, it is likely that our favorite appliance
needs a much more intense cleaning to eliminate deeper deposits and more stubborn dirt.
Obviously, the main enemies of the oven that create the biggest annoyances to be eradicated are all those types of incrustation deriving from fats, oils and all those foods that can cause types of burns to the various components of our appliance.
But don't worry, despite the presence of such incrustations, there are always professional Marbec products to clean the oven. To clean the very encrusted oven, PULI FORNO comes to our aid, a professional product to clean the oven which, with just a few steps, will permanently remove our enemy encrustations, and will clean our oven completely and permanently.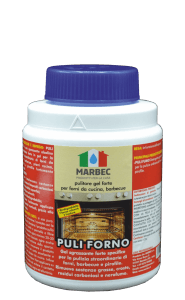 PULI FORNO is an alkaline descaling gel degreaser especially suitable for extraordinary cleaning of kitchen ovens,
barbecues, pots and oven dishes heavily encrusted.
This product does not contain solvents, it is odorless and biodegradable and totally removes fatty substances,
crusts of carbon deposits and carbon black from surfaces; it can be easily applied on vertical surfaces,
thanks to its viscosity.
Using a pair of gloves, simply spread the product on the surface with paper or plastic fiber brush and leave it to act for a minimum of 20-30 minutes.
It can be left to act for several hours, depending on the dirt.
Subsequently, by removing the product from the surface with paper towels and rinsing with water,
we will obtain a truly excellent result and our oven will be cleaner and shinier than before.
In addition to the oven, it is known, when cooking, to wash and order all the utensils and components used in the preparations,
especially if "oily", it becomes really demanding.
The cleaning of pans, enameled, glass or stainless steel dishes, but also grids when they are encrusted and dirty with grease,
it can really take a lot of effort and useful time, that if it were not for those appetizing recipes, if you think about it it would also make you want to cook.
Fortunately, for our "gluttony" and our good appetite, there is also a very practical solution for this problem,
a strong and sanitizing degreaser: PULI FUMO.
PULI FUMO does not contain solvents and easily and quickly removes greasy stains and residues of all kinds.
Very practical and fast, this ready-to-use detergent is excellent for routine cleaning of utensils, pans
(enameled, in glass or stainless steel) but also in the oven, grills, stove glass and fireplace glass.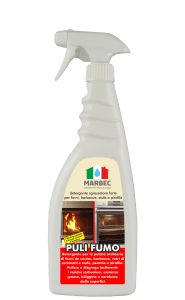 How to clean the microwave oven?
If deep oven cleaning is a very tiring and unloved action;
another hot potato, to stay in the kitchen, is cleaning the microwave.
In fact, much more used than the oven, the microwave has now become a fundamental appliance in our home and,
thanks to its practicality, an integral part of our life. The microwave is now a real ally, it allows us to cook, heat food and drinks and above all helps us optimize time.
We use it constantly from breakfast to dinner, this use however requires a punctual and constant cleaning.
To prevent stains from becoming encrusted and difficult to remove, the microwave should be cleaned every time it is used,
but this, as we know, is not always possible due to lack of time.
So to degrease it thoroughly and make it shine, we follow these simple tips as soon as possible.
To cleanse our dear daily ally we can: add a bowl of water with a little vinegar inside the oven,
half of a lemon cut in half and two tablespoons of baking soda.
We heat everything at maximum temperature for 5 minutes, doing this will give off a steam with intense degreasing and sanitizing properties, which allows you to clean the internal surfaces of the microwave simply with a sponge soaked in water.
For a deeper cleaning instead we can use a highly degreasing detergent: PULI ECO.
A practical, fast biodegradable product that does not contain caustic soda, dyes,
ammonia, solvents. It cleans, degreases and sanitizes steel, aluminum, glass, porcelain tiles, wood, marble and stone materials in general.
N.B. We strongly recommend that you do not use PULI FORNO and PULI FUMO on aluminum surfaces, the latter could be damaged.
How to clean the oven glass?
To complete a detailed cleaning of our oven, we must dwell on one last fundamental step
to obtain an optimal and lasting result: clean the oven glass.
Also for this apparently easy but not negligible operation, we can still use PULI ECO,
which will complete the cleaning of the oven, making our glass clean and shiny.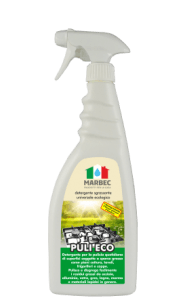 With PULI ECO, a universal degreasing detergent for daily cleaning of surfaces subject to greasy dirt,
just spray the product directly on the surface, leave to act for a few moments and
then rub the glass of our oven both inside and outside with a cloth or an abrasive sponge.
Once this last operation has also been completed, we can be satisfied and say with conviction that we have carried out
excellent cleaning of the oven.
Now just repeat these simple steps as often as we need them and, thanks to Marbec,
whether cooking like a star chef or in a routine way, the result will be amazing and our oven will shine again more than before.