5 things to know
29 September 2020
Can mold be removed from walls permanently?
If you are looking for a method to get rid of mold from walls permanently, follow our 5 foolproof tips and your walls will be clean and protected again.
Have you ever raised your eyes to the sky and unfortunately find between the corners of the walls
some strange grayish spots?
If the answer is yes, know that those spots could hide one of the
most annoying household pitfalls than ever: mold.
That's why today we want to show you 5 tips to permanently eliminate mold from walls.
Why does mold appear on the walls?
Before discovering how to remove mold from walls, let's try to understand why our walls are such tempting places for these terrible fungi; yes, because let's never forget that mold is nothing more than a set of living microorganisms
as bacteria and spores and as such
it turns out to be very harmful to our health, specifically for our respiratory system.
These fungi generally form in humid and not very bright environments.
From small agglomerations, mold can give life to real invasions capable of irrevocably taking over entire walls.
Eliminating mold from walls definitively, therefore, becomes essential to protect our homes and above all to prevent harmful consequences for our health.
Permanently eliminating mold from walls: 5 foolproof methods
Vinegar
A super ally for eliminating mold from walls is vinegar.
Create a natural detergent by mixing water and vinegar and pour it into a spray dispenser.
Then spray the mixture on the wall and let it act for a few minutes, and then clean it with a dry cotton cloth.
Tea Tree Oil
Did you know that in addition to being a real beauty elixir, Tea Tree Oil is a real elixir for our home?
That's right, this essential oil is a real ally for our home against mold.
Create a mixture of 100 ml of vinegar with 12 drops of Tea Tree essential oil and spray it on the wall.
Let it act for ten minutes and remove everything with a soft cloth.
By adding lemon drops to the mixture you will increase its disinfectant and whitening strength.
Bicarbonate
Bicarbonate, thanks to its antibacterial, whitening and disinfectant properties, is certainly one of the most used natural substances in home cleaning.
Baking soda is also a great remedy to permanently remove mold from walls; it is used everywhere, from the kitchen to the laundry room.
By acting delicately, it facilitates the detachment of mold from the surface without damaging it.
Bicarbonate, if used constantly in areas prone to mold, can help us to prevent it from forming.
Grapefruit seeds
Grapefruit, which is an explosion of vitamins and energy and a panacea for health, also comes to the rescue against mold at home.
To eliminate mold from the walls, prepare a mixture with 30 drops of grapefruit in a cup of water.
Once ready, it will be appropriate to rub it on the mold stains.
The strength of grapefruit will surely surprise us.
Strong method
Due to stubborn stains it may happen that grandma's remedies are not so effective.
Mold, as we know, is a "tough nut to crack" and as such it must also be fought with strong methods.
To permanently eliminate mold from walls we recommend you to try 3 specific professional products:
PULI MUFFE: a cleaner to permanently eliminate mold,
algae and fungi from walls, for plasters, coatings, shower boxes, external wooden structures.
Easy to use, it can be sprayed directly on the surface that has to be cleaned.
Once it is applied, let it act for 10-20 minutes and go over the surface with a sponge or
a soft damp cloth.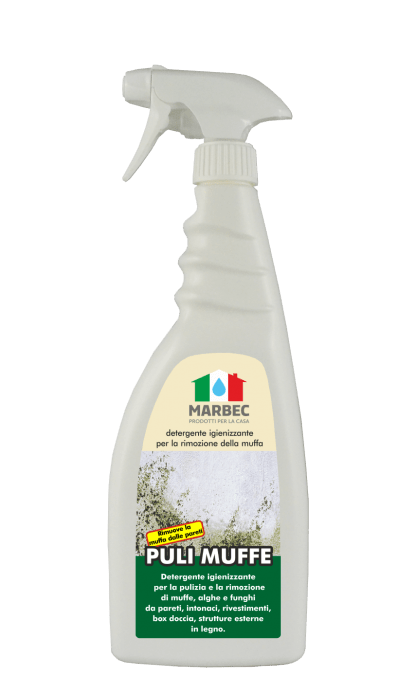 In case of consistent stains and thick mold deposits, we recommend you to let the product act even more, about 30-60 minutes, and if necessary, to scrub everything with a resistant brush.
Once the cleaning is finished, the wall will look wonderfully clean and shiny but mold is known to be very insidious, therefore it is essential to try in every way to hinder it.
Against the first cause of mold formation, humidity, we recommend you to apply a water-based impregnating protective agent, IDROWIP, to the surface: it drastically reduces the absorption of water in the material and counteracts the rising damp.
Always on absorbent materials, in case of deep infiltrations,
we recommend ACQUABLOCK:
an anti-infiltration water-repellent consolidating protective for both internal and external stone materials.
At this point, even if mold is always around the corners, we can definitely look at our
ceilings and feel more comfortable!